How are people reacting to Miss America dropping the swimsuit?
---
Miss America contestants will no longer be judged on how they look strutting across the stage in a swimsuit and high heels.
Gretchen Carlson, a former Miss America who is head of the organization's board of trustees, made the announcement Tuesday on "Good Morning America."
"We're not going to judge you on your appearance because we are interested in what makes you you," she said.
Carlson said the board has heard from potential contestants saying, "We don't want to be out there in high heels and swimsuits."
"Guess what?" she said. "You don't have to anymore."
Current Miss America, Cara Mund, looks all in on the changes.
We're changing out of our swimsuits and into a whole new era #byebyebikini #MissAmerica2019 pic.twitter.com/08Y7jLFxhs

— Cara Mund (@MissAmerica) June 5, 2018
As do many others.
Miss America is ending the swimsuit part of the competition this year and judging not on outward appearance but on talent and what the contestants have to say. This is amazing.

— Pey (@peytonhenshaw) June 5, 2018
Judging a woman in her swimsuit during the Miss America pageant was nothing short of subjective sexism. Ask a contestant what they ate that week leading up to it. Good riddance.

— Angela Belcamino (@AngelaBelcamino) June 5, 2018
I am OK with the CHANGE & will support it #MovingForward #MissAmerica https://t.co/kc6GrwNJ6b

— It Ends with Us #Olitz4Ever❤️ (@lrschumacher70) June 5, 2018
Thanks to @GretchenCarlson !! https://t.co/1ooe9j3ArO

— Erin Burnett (@ErinBurnett) June 5, 2018
So proud of the Miss America Organization for getting rid of the swimsuit portion. It's time for more empowered woman to take the stage and make a change. This sends the message that we are more than just our bodies. @GretchenCarlson you are amazing! @MissAmericaOrg

— Jenna Mae (@JennaNygaard) June 5, 2018
The closest I've come to watching the #MissAmerica competition is the movie Miss Congeniality. Regardless, I'm glad to see that they're removing the swimsuit aspect of the competition. A person's body should not have to appear before a panel of judges.

— Chauncey Rogers (@ChaunceyRogers) June 5, 2018
But will the lack of swimsuits keep viewers away? That remains to be seen:
Miss America will no longer have a swimsuit competition. So stay tuned for the new Pantsuit competition and spelling bee. :)

— Sir Gringo Starr (@JakeDuarte43) June 5, 2018
Miss America has decided under Gretchen Carlson that there will be no more swimsuit, evening gown or for for that matter ratings. #MissAmerica

— Dean Read (@capecodpi) June 5, 2018
So does that mean the next Miss America will have a really good personality?

— Lisa Ann (@lisaspeltz4) June 5, 2018
No more scantily clad women during the Miss America Pageant ... sounds like great radio.

— Paul Bracken (@PaulBracken61) June 5, 2018
"2019 Final Year for Miss America". There. Fixed the headline for you.

— Mary West (@MaryWest137) June 5, 2018
It's good Miss America is eliminating the swim suit competition which is sexist and terrible, now please eliminate the rest of it which is also sexist and terrible

— beth, an alien (@bourgeoisalien) June 5, 2018
Miss America just turned into Miss America's Got Talent 2.

— Ian. (@Blane215) June 5, 2018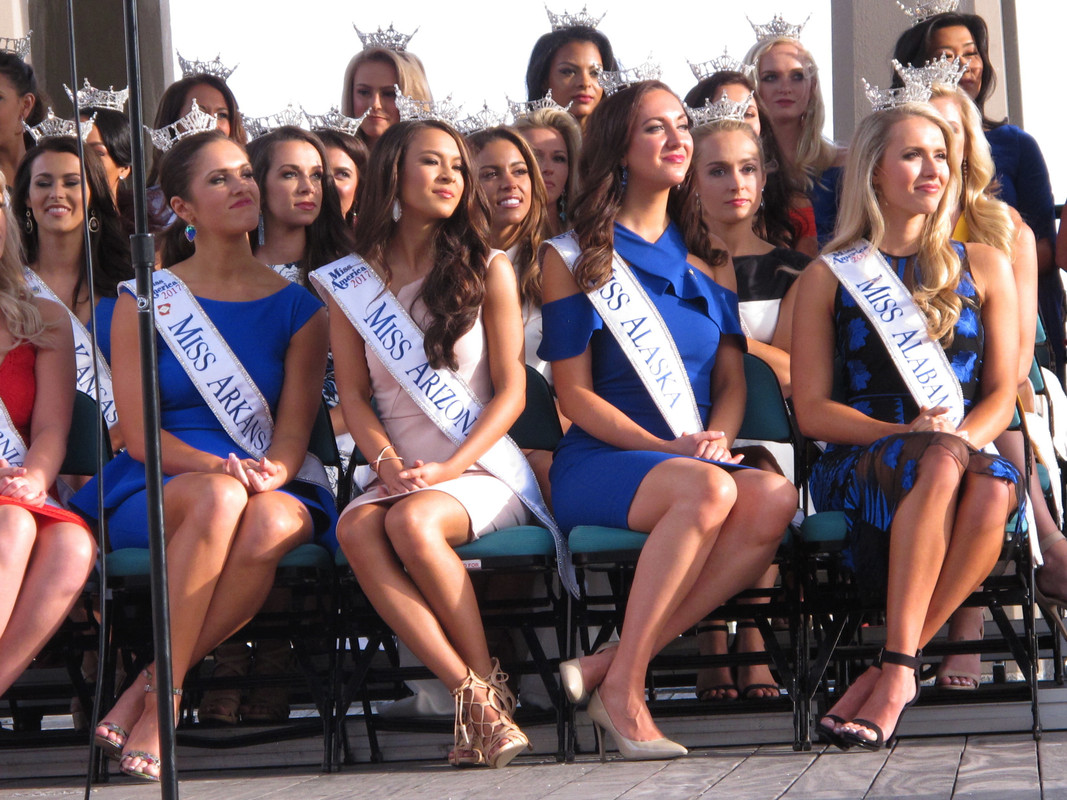 These contestants in the 2017 Miss America pageant were the last to be judged in the swimsuit competition.
Carlson also said the group will make changes to the evening wear portion of the competition, adding it will not judge women on their chosen attire. "It's what comes out of their mouths that we care about," she said.
The changes will start with this year's broadcast on Sept. 9.
Jonna Miller is the Tribune-Review features editor. Reach her at 724-850-1270, jonnamiller@tribweb.com or via Twitter @JLMiller_Trib.