8 ways humans have altered nature on display at the Carnegie Museum of Natural History
---
Visitors have just a few days left to experience an exhibit at the Carnegie Museum of Natural History that shows how people aren't separate from the natural world, but a part of it.
"We Are Nature: Living in the Anthropocene" provokes visitors to consider how humans have affected the current geological age.
"It's been recognized for a long time that people affect their local environments," said Nicole Heller, museum fellow and curator of the anthropocene. "What's new about the anthropocene is that humans are changing the earth's system, the whole way the earth functions — the atmosphere, the hydrology, the geosphere, the geology — all driven by human activity."
Anthropocene is a word used to describe the current geological age, which is often characterized as one heavily influenced by humans.
"We Are Nature: Living In the Anthropocene" is on display through Monday in the R.P. Simmons Family Gallery at the Carnegie Museum of Natural History at 4400 Forbes Ave. in Oakland. The museum's hours are 10 a.m. to 5 p.m. every day except Thursdays when it is open until 8 p.m.
Here are eight objects that Heller chose that stand out in the museum's exhibit.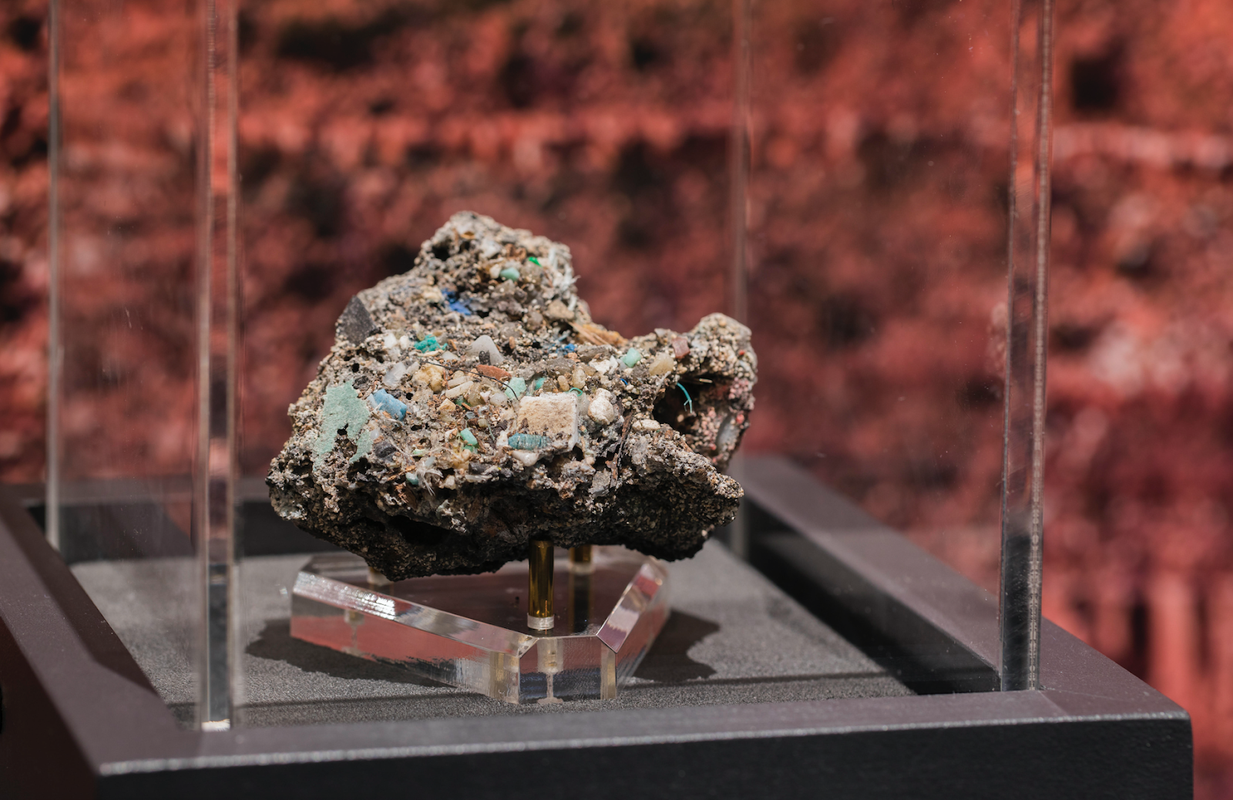 Joshua Franzos | Carnegie Museum of Natural History; object on loan from Patricia L. Corcoran with the department of earth sciences at Western University.
1) Plastiglomerate from Hawaii
This may look like an ordinary rock, but it's actually a plastiglomerate, a fusion of plastic with natural materials like shells, sand and other minerals, found in Hawaii. Since the plastic inside will not biodegrade, it could remain for thousands of years in the fossil record.
"It's got technology interwoven with minerals and animals," Heller said. "It's emblematic of this idea of the anthropocene, how human products are being integrated into our geology. … It's a really clear example of how integrated humans are with the so-called natural world and how when you look at an object these days on the beach, you can't just assume it was made by natural processes."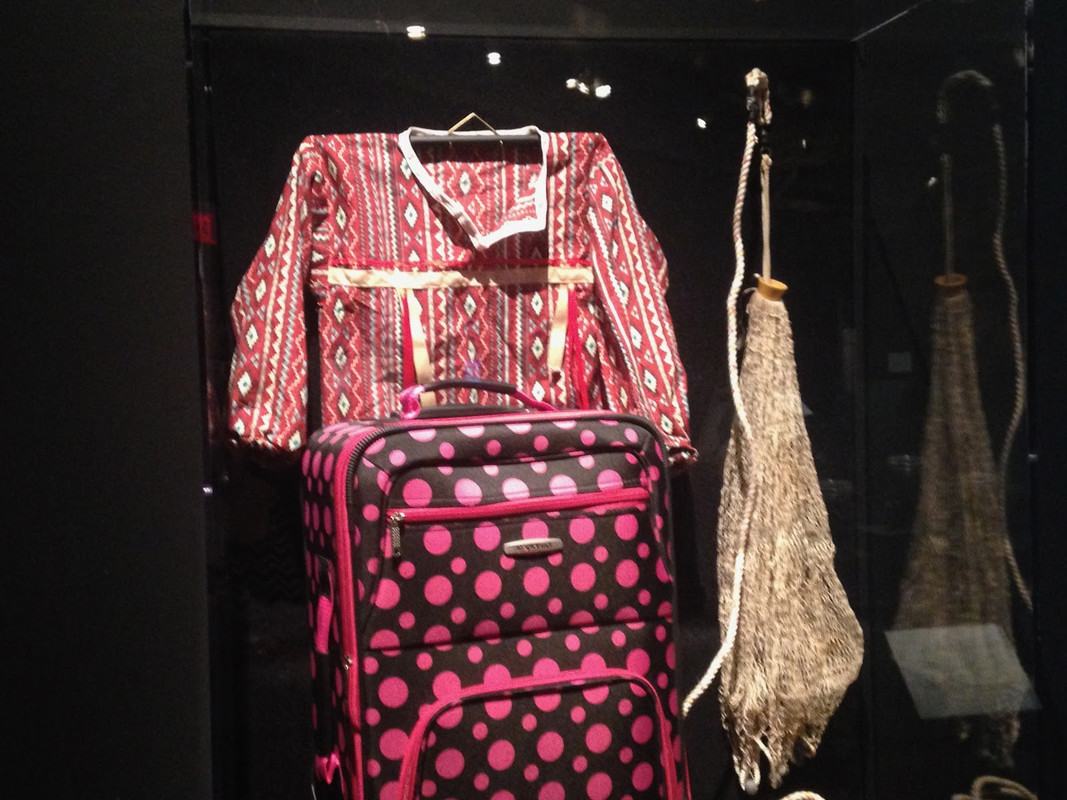 Stacey Federoff | For the Tribune-Review; object on loan from by the Biloxi-Chitimacha-Choctaw tribe
2) Suitcase from a "climate refugee"
An ordinary rolling suitcase might not be worthy of a museum exhibit, except this one displayed alongside a hand-woven net and child's shirt comes from people who have had to relocate from Isle de Jean Charles in Louisiana as it is being flooded by coastal erosion.
"It makes you think about the way climate changes are affecting people right now," Heller said. "We have a lot of knowledge about how climate changes in the past have affected different civilizations, and affected where people live and how they make their living, but to see, right now, in the moment someone identified as a climate refugee.
"It's an unusual object to see in a museum, but it makes a lot of sense in this exhibit. The whole point of this exhibit is: natural history isn't just something that happens in the past, it's all about how plants and animals, including humans, are living on the planet today."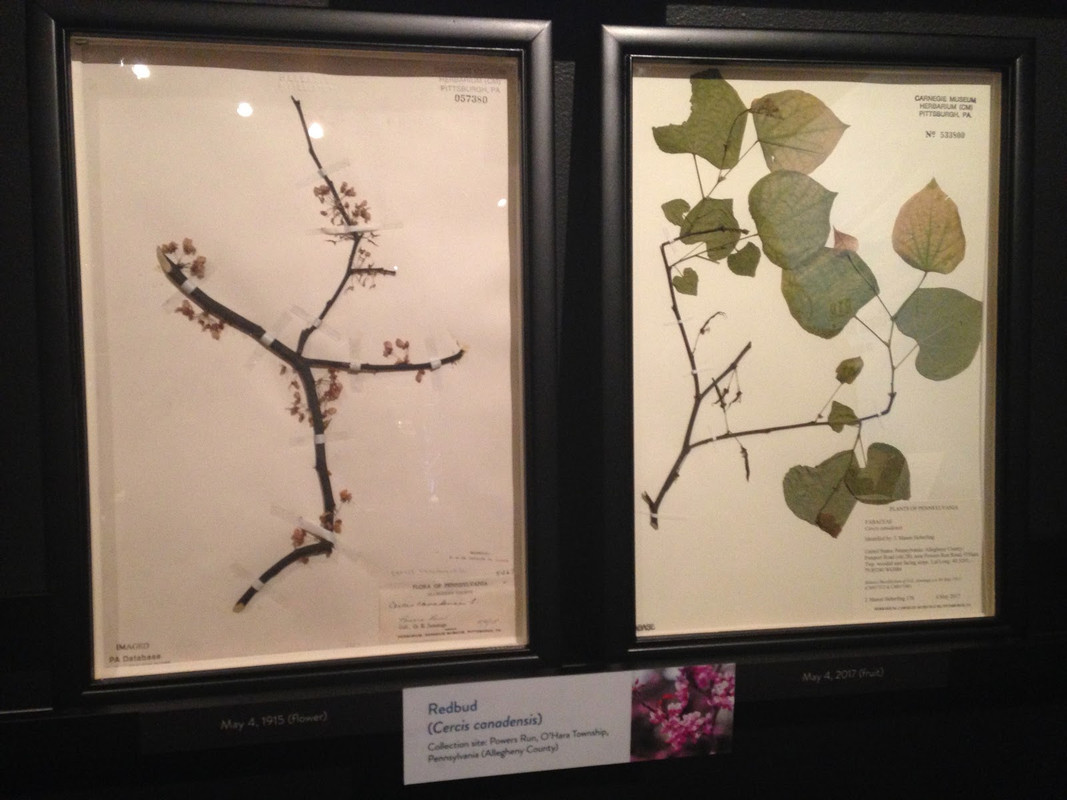 Stacey Federoff | For the Tribune-Review
3) Pittsburgh plant specimens, taken 100 years apart
Two specimens, shown side-by-side in the exhibit, show a redbud branch that in 1915 that only had begun to flower in early May and one now that is fully past the flowering stage and has full leaves by that same time. The specimens are one of several in "We Are Nature" taken in the same place about 100 years apart. Scientists Bonnie Issac and Mason Herberling are studying how the plants' life cycles may have shifted between three days and two weeks, depending on its type.
"Plants have been responding to climate change by speeding up in their phenology, their life cycle," Heller said. "This is documented all over the world, but this is wonderful clear evidence of how much right here in Pittsburgh our local plants are changing to respond to the changing temperature."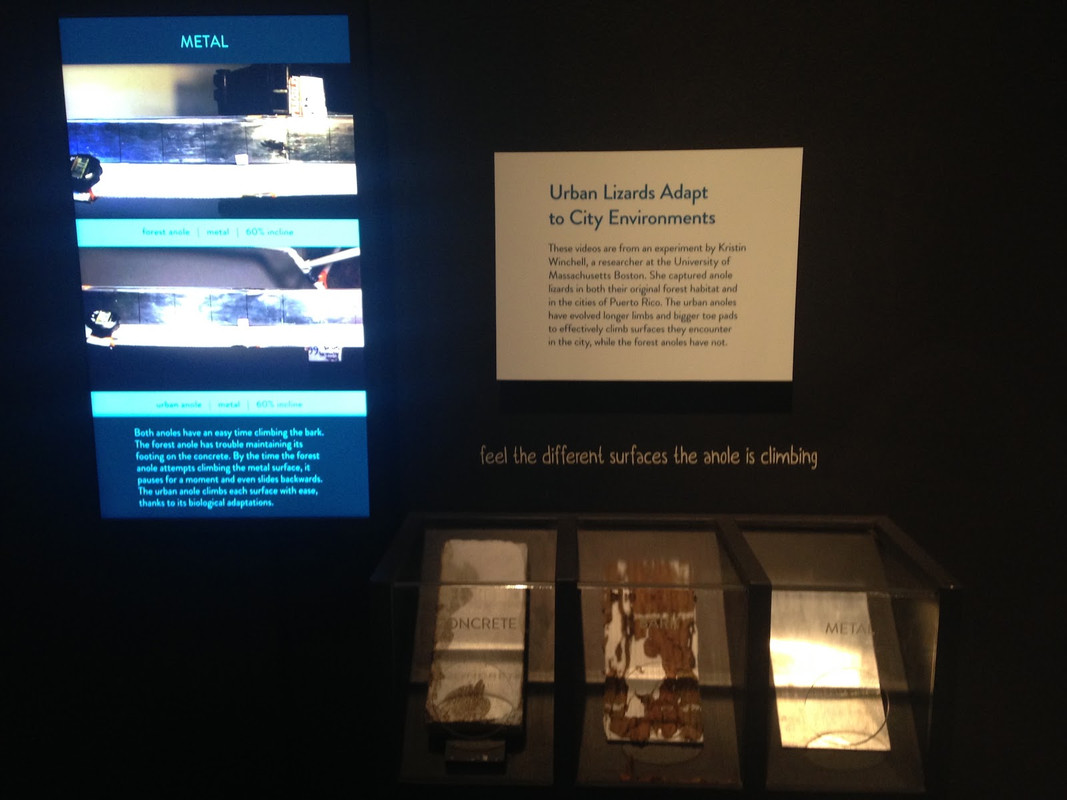 Stacey Federoff | For the Tribune-Review
4) Slower lizards on human-made surfaces
Anole lizards from Puerto Rico scamper across different surfaces in a research video, but a close look shows that the forest-dwelling ones ran slower on man-made surfaces than those that live in the cities. Kristin Winchell of the University of Massachusetts at Boston found that the lizards from cities have evolved longer limbs and bigger toe pads than their forest counterparts.
"This is an example of rapid evolution and the way that organisms are adapting their bodies. It's natural selection in action," Heller said. "Their bodies are being selected to be more adapted to live in urban areas."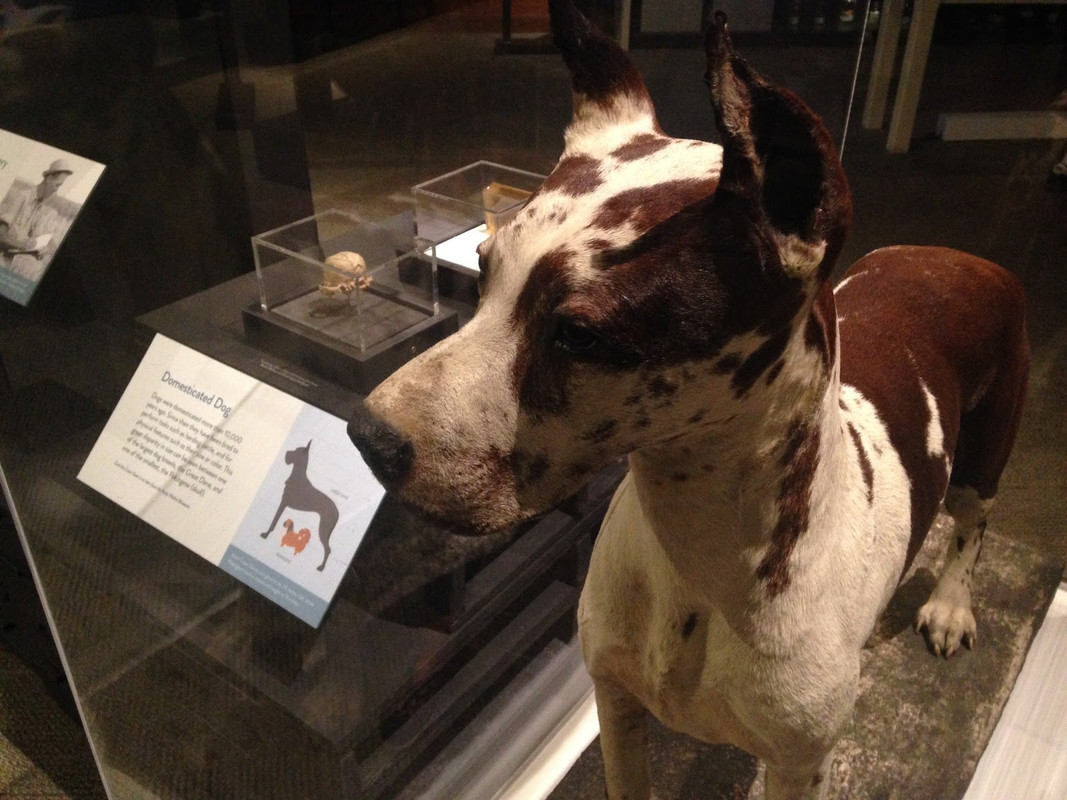 Stacey Federoff | For the Tribune-Review; object on loan from the Andy Warhol Museum
5) Cecil, a taxidermied Great Dane, once owned by Andy Warhol
Affectionately called Cecil by artist Andy Warhol, this Great Dane was once a champion show dog known as Ador Tipp Top that lived from 1921 to 1930. He was taxidermied at Yale University. Warhol bought him at an antique shop in New York in the 1960s and named him Cecil, believing the dog was once owned by director Cecil B. DeMille.
Heller said it is a part of the exhibit alongside the skull of a Pekingese dog because, though the two vary in size, they are the same species.
"It's showing the amazing selection pressure that humans have put on dogs, on this species," she said.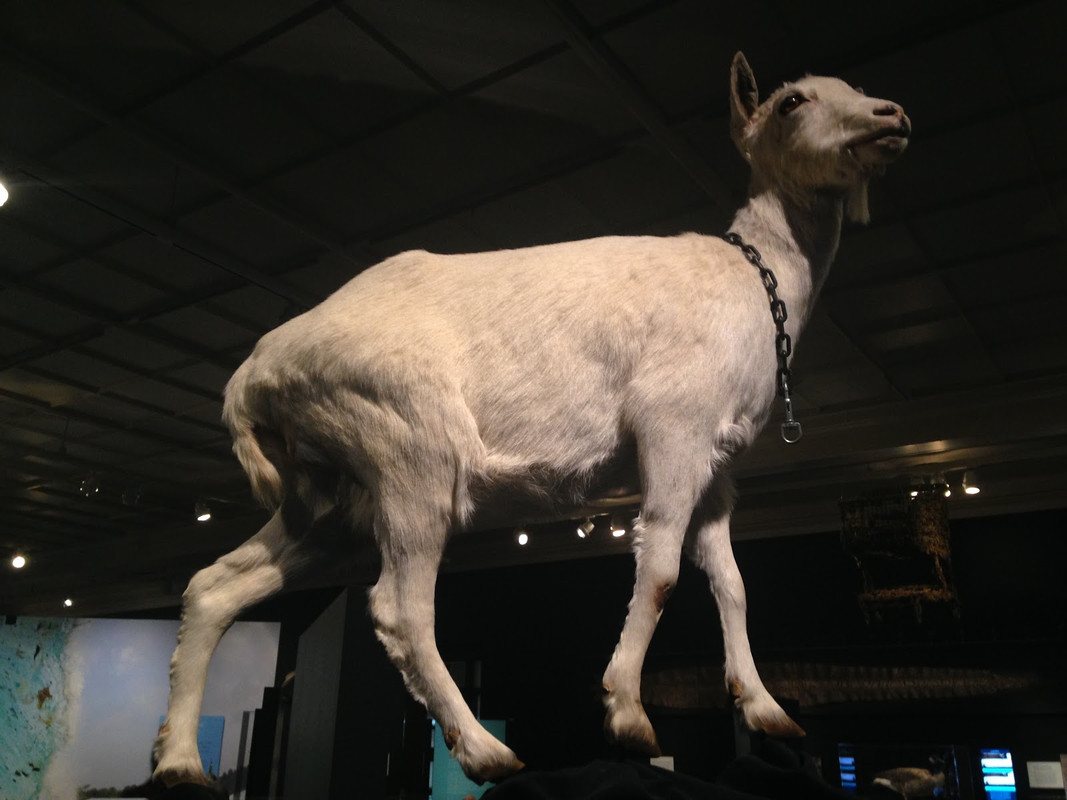 Stacey Federoff | For the Tribune-Review; object on loan from Richard Pell, Center for PostNatural History
6) Freckles the BioSteel goat
Freckles the BioSteel goat was one of four genetically altered to produce spider silk in their milk for use in manufacturing bulletproof armor, fishing line and human tendon replacements. The goat's offspring continue to live on a research farm with silkworms, plants and bacteria modified to also produce spider silk.
"Amazing to think that we have the biotechnology to do that," Heller said. "I think this raises questions about what is the future of evolution?"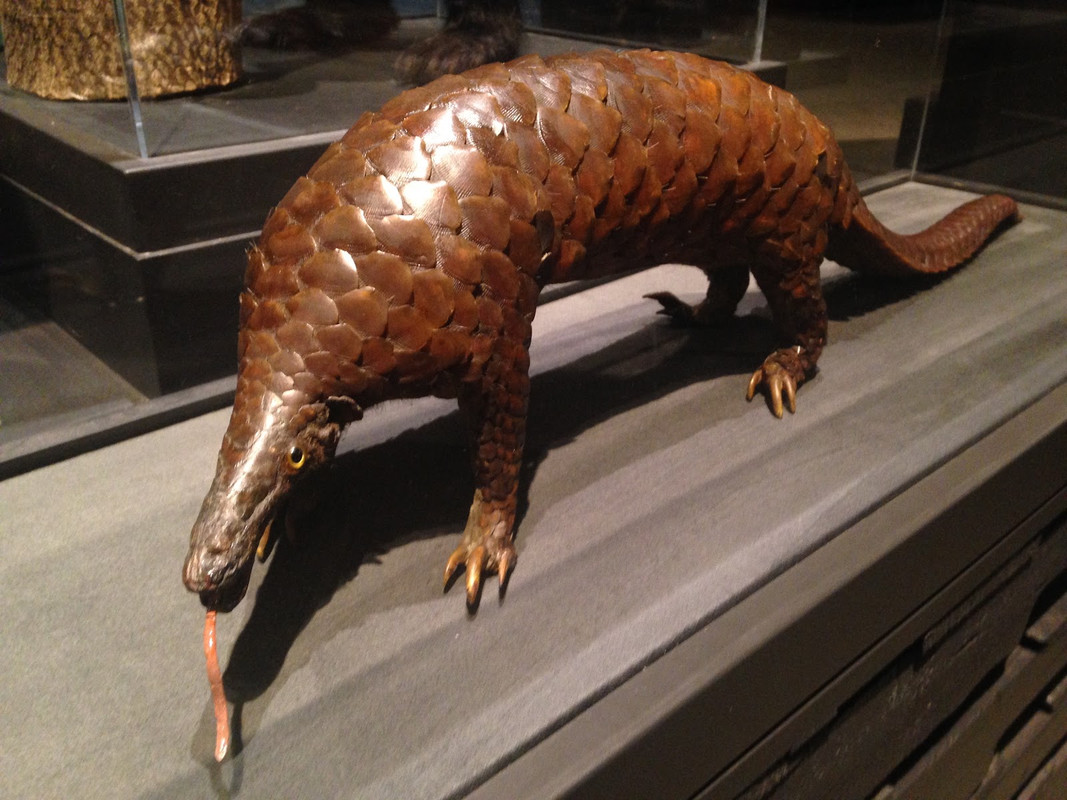 Stacey Federoff | For the Tribune-Review
7) A pangolin
The scale of this anteater-like animal found in Asia and Africa are made of keratin, like human fingernails, an added defense mechanism. But, they are hunted for traditional medicine and illegally trafficked, and have become endangered.
"One of the characteristics of the anthropocene is that we might be on the verge of this sixth great mass extinction," Heller said. "Here it is this animal, but it's wrapped up in this global commerce. People are killing them to get their scales for traditional medicine … then also it's a global conservation concern."
Stacey Federoff | For the Tribune-Review; object on loan by the International Crane Foundation
8) Whooping crane conservation caregiver suit
Endangered for decades, whooping cranes are raised by humans in suits like this in order to discourage attachment, instead hoping that they will bond with other cranes. Feed from one hand mimicking a beak by the caregiver, noises of mother birds are played from a device in the wearer's pocket.
"Think of all the different ways people are interacting with wildlife," Heller said. "This provokes you to think about our relationship with other creatures.
"This is really nice because it shows the great lengths people go to to help other creatures survive."