Jeff Bezos could buy every house for sale in Pittsburgh ... 40 times over
---
Jeff Bezos could buy every home for sale in Pittsburgh, and then some.
Bezos, founder and CEO of Amazon and the world's richest man, could purchase the entire housing market in the Pittsburgh metro area about 40 times, according to research from Realtor.com .
Realtor.com took a look at the housing markets in cities on the short list for Amazon HQ2 to see how many homes Bezos' $112 billion could buy. The research pegged the real estate market in Pittsburgh at $2.9 billion, meaning Bezos could buy each of the 10,850 homes without checking his bank account balance.
Bezos could nearly afford every home for sale in Miami, New York and Los Angeles, the three most expensive markets in the 20 finalists for HQ2. He could buy every home in every other finalist city, including more than 100,000 homes in Chicago, Dallas, Boston and Philadelphia, with $10 billion left to spare.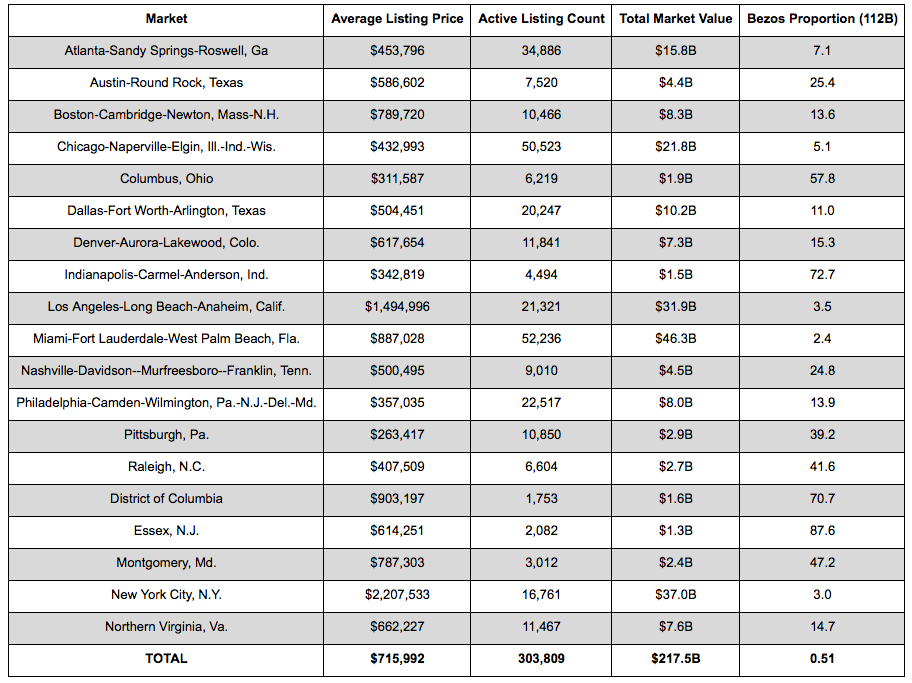 Amazon founder and CEO Jeff Bezos could buy a lot of houses in the HQ2 finalists, according to research by Realtor.com
The billionaire has some top-dollar properties to his name. In early 2017, he paid $23 million for the former Textile Museum in Washington and is spending a reported $12 million on renovations. Later that year, he paid $12.9 million for the house next door to his Beverly Hills, Calif., mansion he has owned since 2007. He paid $24.45 million for that house. Bezos also has homes in Texas, New York and Washington state.
Aaron Aupperlee is a Tribune-Review staff writer. Reach him at aaupperlee@tribweb.com, 412-336-8448 or via Twitter @tinynotebook.