No green thumb? Robot planter can walk to sunlight, throws tantrum for water
Vincross
---
Be honest: How many plants have you killed?
Maybe you forgot to water it. Maybe you failed to move it into the sun.
But what if your planter could tell you when to water it? What if it didn't need you to get it some sunlight?
Enter the HEXA Plant — a six-legged machine with a place for a planet on its top.
It's the brainchild of Sun Tianqi, the founder of Vincross, a robotics startup out of Beijing.
"For billions of years, plants have never experienced movement of any kind, not even the simplest movement," Tianqi says in a post on the company's forum. "Their whole lives, they stick to where they were born. Do they desire to break their own settings or have a tendency towards this? … With a robotic rover base, plants can experience mobility and interaction."
Tianqi says the idea came to him while attending a sunflower exhibit in 2014, and he came upon a dead sunflower.
"I had no idea how it ended up there or why it died – whether it was because of the lack of sunshine or water – but it was just there, and it was dead," he says. "I thought, if it could move a little bit, take a 30-feet walk out of the shadow to where the other sunflowers were, it would have lived healthily. But it didn't."
So, his HEXA Plant concept gets itself into the sunlight.
And it gets itself noticed when it needs to be watered.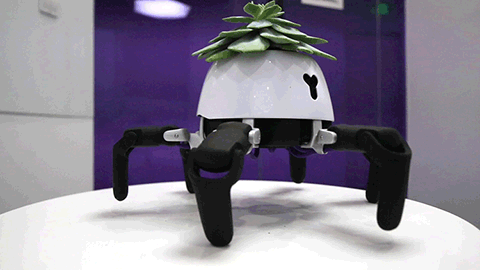 And it basically just moves around when it wants to take a walk.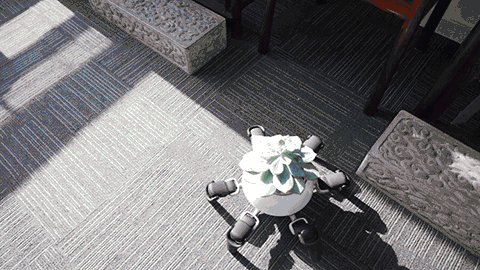 Now, before you start getting your money ready, Tianqi's idea is just a concept at this point. It's actually just a modification to a standard HEXA robot the company is working on.
"My intent … is to inspire people to think about the relationship between human technology and natural limitation, and the boundaries between living being and machine with robotics," Tianqi says. "While at the time of building this, I built it as more of an installation art piece rather than functional robot. But based on the interest I'm hearing, I see that people are interested in adding robotics into their homes with a product such as this."
We're keeping our fingers — our non-green fingers — crossed.
Chris Pastrick is a Tribune-Review digital producer. You can contact Chris at 412-320-7898, [email protected] or via Twitter .