All-or-nothing defense a risky strategy for Michael Rosfeld, experts say
AP
---
Legal experts agree that Patrick Thomassey's desire for jurors in the case against Michael Rosfeld to weigh just one option, first-degree murder, is tactical and calculated — and risky.
Rosfeld is charged with criminal homicide in the June 19 killing of Antwon Rose II.
Rose, a black, unarmed 17-year-old, ran from a felony traffic stop in East Pittsburgh. Rosfeld, newly sworn in to the borough's police force, is white. He shot Rose three times as he ran away.
Rosfeld's trial is scheduled to begin Tuesday.
Thomassey made his request Wednesday in Dauphin County after attorneys selected the final jurors to hear the case.
He said wants jurors to have only that option instead of having the option to find his client guilty of lesser charges.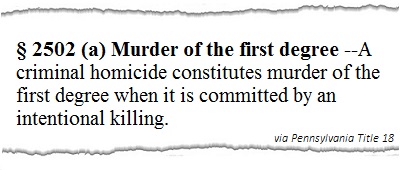 Prosecutors want the jury to also consider third-degree murder and voluntary and involuntary manslaughter.
Allegheny County Judge Judge Alexander Bicket will issue a ruling on the request.
David Harris, a University of Pittsburgh law professor, called the tactic a gamble. He said Thomassey is betting all his chips on the idea that the evidence isn't strong enough for a first-degree murder conviction.
"He doesn't want the jury to have the option of a lower, compromise verdict," Harris said. "It's all or nothing."
Daniel Q. Herbert — a former police officer who has been an attorney for about 20 years — represented former Chicago police officer Jason Van Dyke on a first-degree murder charge in the 2014 shooting of 17-year-old Laquan McDonald.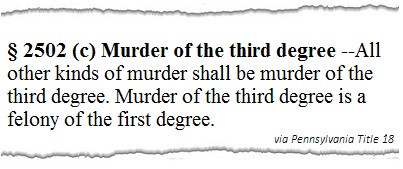 McDonald was armed with a 3-inch, folding knife and was walking away from officers when Van Dyke emptied all 16 rounds into the teenager, many of which came after McDonald was motionless on the ground.
Even Herbert called Thomassey's request "an extremely risky move."
"If a jury wants to find him guilty, their hands are tied," he said.
Van Dyke was convicted of second-degree murder in the Chicago case, and Herbert called that conviction a win.
"We had the presumption of guilt from Day One," he said. "There was no way we were going to get an acquittal across the board."
Bruce Antkowiak, chair of Saint Vincent College's criminology department, called Thomassey's intent a "very interesting tactical decision."
If granted, the prosecution would have a hard time proving that Rosfeld acted with premeditation or malice.
"If that were the only option the jury had, there would obviously be a pressure toward the not-guilty side," Antkowiak said.
Pennsylvania law defines first-degree murder as one that is "an intentional killing."
The sentence for such a conviction is the death penalty or mandatory life without parole.
Tom N. Farrell of Pittsburgh's Farrell and Associates defended the "all or nothing" approach.
"That's a smart defense," said Farrell, who on Thursday rested his defense in a capital case he's defending in Washington County.
He said he's used that gambit in the past with success, but not every time was a win.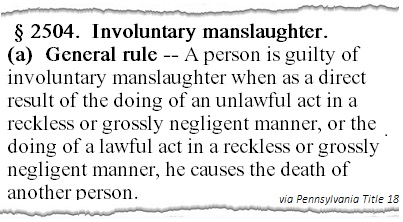 Prosecutors could have a hard time proving first-degree murder, particularly because it involves an on-duty police officer — which is likely what Thomassey's strategy hangs on, he said.
It's the lesser charges — specifically voluntary manslaughter — that could throw a wrench in the defense's move if the jury is allowed to consider them.
Third-degree murder is a catch-all charge used in homicides that don't fall into first-degree's definition of premeditated or the second-degree murder definition, which applies to homicides that happen in the commission of another crime.
Involuntary manslaughter applies when a death is the direct result of a reckless or "grossly negligent" act.
Voluntary manslaughter is more complex and has two separate categories under which the death can fall under.
The first applies when the killing is unjustified and stems from "serious provocation" by either the person who was killed or someone else who the actor meant to kill but, in layman's terms, they killed the wrong person.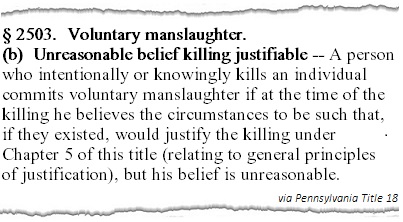 The second category is simpler and involves the "unreasonable belief" that the killing is justified. This category of voluntary manslaughter applies if, at the time of the killing, the actor believes circumstances exist that would make the killing justifiable "but his belief is unreasonable."
Voluntary manslaughter is at the heart of the case, Antkowiak said.
An important distinction Antkowiak made is that it is the prosecution's burden in this case to prove the shooting wasn't justified. Rosfeld and the defense have no burden to justify the shooting.
Farrell agreed.
"A voluntary manslaughter charge in this case would be very problematic (for Rosfeld)," Farrell said.
TribLIVE commenting policy
You are solely responsible for your comments and by using TribLive.com you agree to our Terms of Service.
We moderate comments. Our goal is to provide substantive commentary for a general readership. By screening submissions, we provide a space where readers can share intelligent and informed commentary that enhances the quality of our news and information.
While most comments will be posted if they are on-topic and not abusive, moderating decisions are subjective. We will make them as carefully and consistently as we can. Because of the volume of reader comments, we cannot review individual moderation decisions with readers.
We value thoughtful comments representing a range of views that make their point quickly and politely. We make an effort to protect discussions from repeated comments either by the same reader or different readers
We follow the same standards for taste as the daily newspaper. A few things we won't tolerate: personal attacks, obscenity, vulgarity, profanity (including expletives and letters followed by dashes), commercial promotion, impersonations, incoherence, proselytizing and SHOUTING. Don't include URLs to Web sites.
We do not edit comments. They are either approved or deleted. We reserve the right to edit a comment that is quoted or excerpted in an article. In this case, we may fix spelling and punctuation.
We welcome strong opinions and criticism of our work, but we don't want comments to become bogged down with discussions of our policies and we will moderate accordingly.
We appreciate it when readers and people quoted in articles or blog posts point out errors of fact or emphasis and will investigate all assertions. But these suggestions should be sent via e-mail. To avoid distracting other readers, we won't publish comments that suggest a correction. Instead, corrections will be made in a blog post or in an article.