5 things to know before you ride Kennywood's Steel Curtain
---
Kennywood's Steel Curtain opens to the public Saturday, but a lucky few got a sneak peek at the park's newest coaster the day before.
The ride climbs 220 feet before speeding through nine inversions and hitting speeds around 75 mph all in about two minutes.
Kennywood claims it is the tallest roller coaster in Pennsylvania and that its nine inversions set a North American record.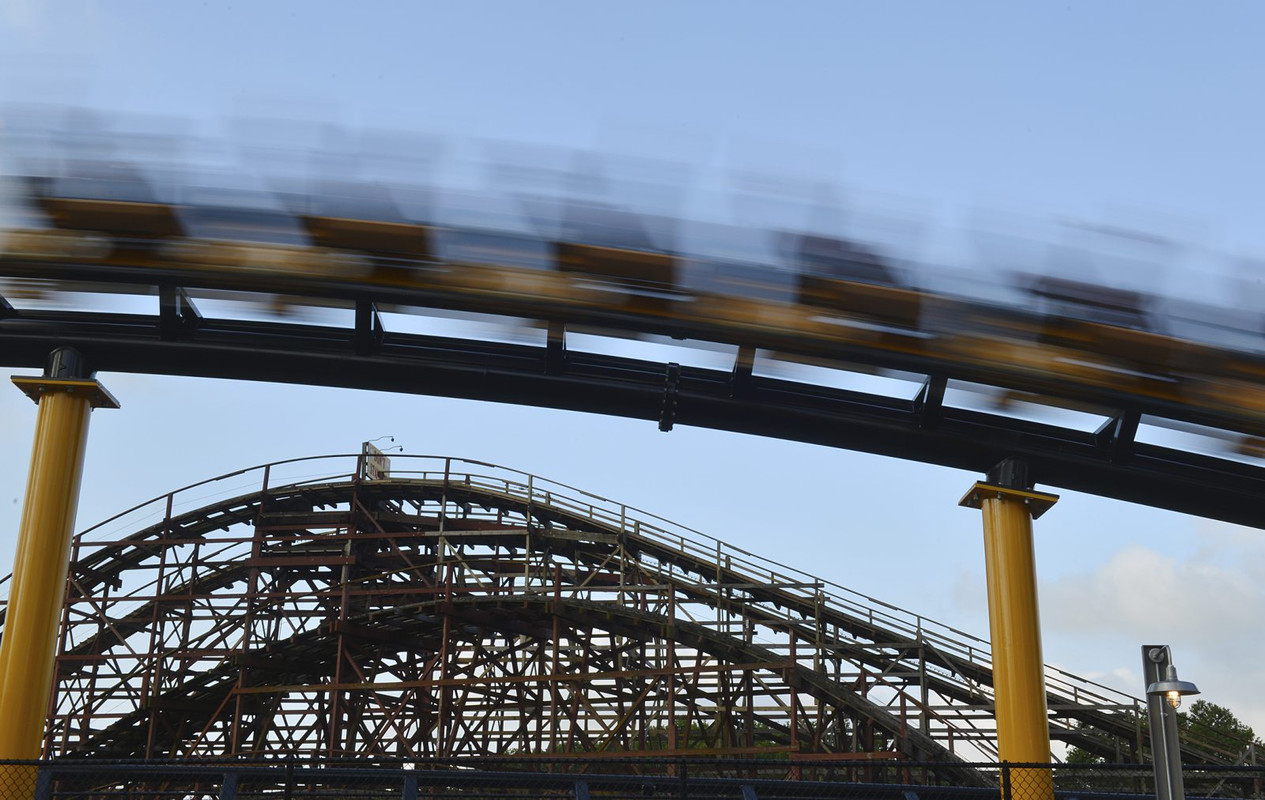 The Steel Curtain zooms along its track during a media event for the new coaster at Kennywood Park on Friday, July 12, 2019. (Kristina Serafini | Tribune-Review)
Wanna go for a ride?
Here are five things to know before hopping aboard the Steel Curtain.
1) 2 hours for 2 minutes: Saturday is the first day the public can ride Steel Curtain so expect to wait in line. Nick Paradise, a spokesman for Kennywood, said the expected wait time for opening day will be up to two hours or longer. There will be two cars running Saturday, and the park will do its best to move people through as quickly as possible, Paradise said.
"There was an awful lot of time and effort put into the design, engineering and construction of this coaster," said Tim Timco, the president and CEO of S&S Worldwide, the company that designed the ride. "I can tell you that the ride experience will be certainly worth the wait."
Here we go! #SteelCurtainKickoff pic.twitter.com/QygKvqRVh4

— Kennywood Park (@Kenny_Kangaroo) July 12, 2019
2) All Steelers everywhere: Kennywood really plays up the football theme with ride. The seats are designed look like footballs. The voices of Steelers broadcasters Bill Hillgrove and Tunch Ilkin welcome visitors to the ride, give safety instructions and send them on their way when the ride is over. And of course, "Renegade" plays as the cars ascend the first lift hill.
🔥🔥🔥 day at the #SteelCurtainKickoff!!@Kenny_Kangaroo | #HereWeGo pic.twitter.com/rHa3xsz7im

— Pittsburgh Steelers (@steelers) July 12, 2019
3) Back it up: While the front seat of a ride is usually the most sought after, some riders Friday reported a more intense experience further back. Jack Thompson, a self-described roller coaster enthusiast who sat in the front row for his first ride Friday, said that when he sat further back on subsequent trips, the ride felt steeper.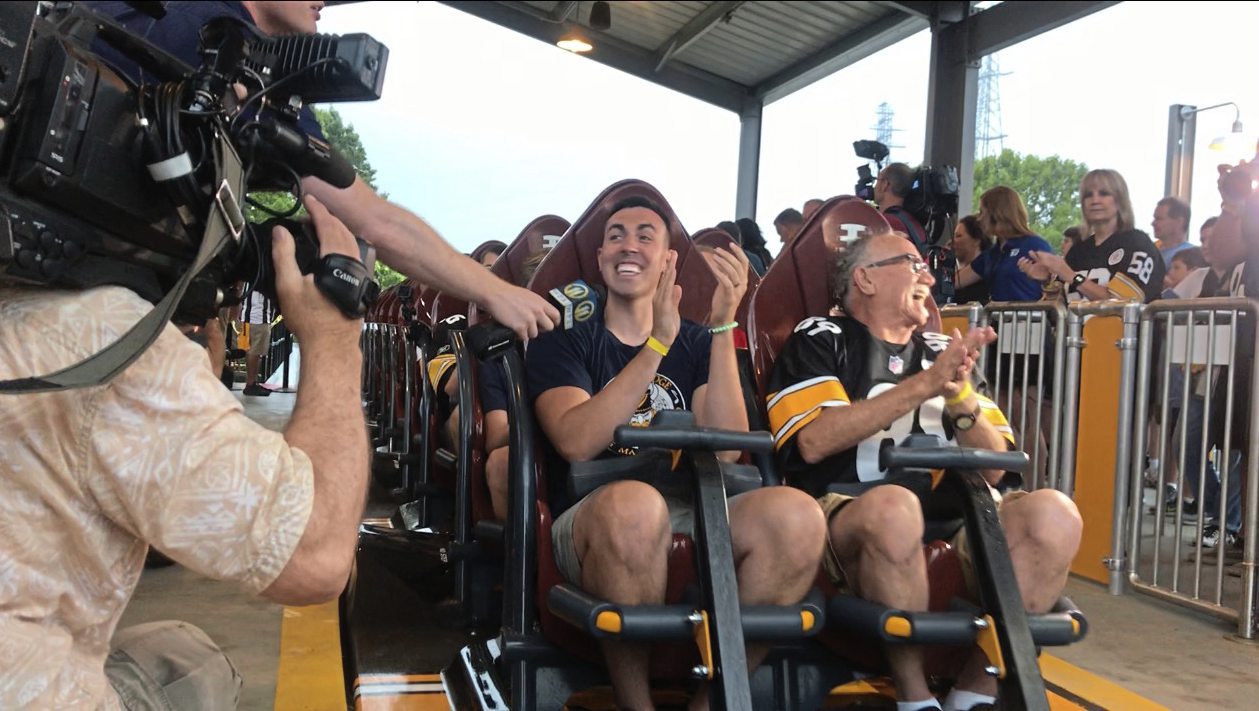 Gavin Virag, 28, and his dad, Jack Thompson, 67, both from Harrison, react as they finish their first ride on Kennywood's Steel Curtain roller coaster. (Madasyn Czebiniak | Tribune-Review)
4) Peep that view: Moments before the Steel Curtain plummets into its first inversion, riders are treated to a spectacular view of the Monongahela River. A few riders Friday said they could see Pittsburgh. Even Steelers defensive end Cam Heyward kept his eyes open to see it.
"Just to see the Monongahela River all the way down, just all of Pittsburgh, really, it's a cool sight, and from a roller coaster it's even better," Heyward said. "Most of the time you get it from a bungee or having to travel up these buildings, but to do it on a roller coaster in the middle of our city, it's something special."
A #Steelers perspective on the newest roller coaster at Kennywood. @steelers @CamHeyward @Kennywood_PR #SteelCurtain #SteelCurtainKickoff #pittsburgh #football #Rollercoaster #herewego pic.twitter.com/0iLG9g406g

— Madasyn Czebiniak (@MCzebsTrib) July 12, 2019
5) Hang on tight: One of the inversions spins riders upside down as the coaster passes over the lagoon at the park. Riders on Friday really liked that part, saying the experience of looking straight down into the water was unique.
Madasyn Czebiniak is a Tribune-Review staff writer. You can contact Madasyn at 724-226-4702, [email protected] or via Twitter .