How quiet Stanton Heights neighborhood tragically changed 10 years ago
Tribune-Review
Tribune-Review
Tribune-Review
Tribune-Review
Tribune-Review
Tribune-Review
Tribune-Review
Tribune-Review
Tribune-Review
Tribune-Review
---
Chris Shelton and Shawn Howering had never heard of Stanton Heights or the terrible events that happened there on April 4, 2009, when they moved to Pittsburgh from Baltimore in 2011.
They had no idea when they started shopping for a house three years later that the one they picked included property where three Pittsburgh police officers died in a murderous ambush 10 years ago.
The neighborhood seemed safe with lots of city police officers living there, and the house came with a big side yard at an affordable $132,000.
Pittsburgh had condemned and demolished the neighboring house at 1016 Fairfield St. in 2011, two years after a 22-year-old man who had been arguing with his mother shot and killed city Officers Stephen Mayhle, Eric Kelly and Paul Sciullo there. A previous owner of the house that Shelton and Howering bought incorporated the vacant lot into the yard.
"I hadn't heard of it at all until the real estate agent disclosed that this was the property," said Howering, 35.
"It's interesting talk at parties," said Shelton, 31, adding questions usually come after they tell people they live in Stanton Heights.
"Isn't that the place where the police officers were killed?"

With a bay window shattered from gunfire, a police sniper waits at the ready on a roof directly across the street as tactical officers stand atop an armored vehicle in the shooter's front yard on 1016 Fairfield Street in Stanton Heights where four officers were shot, three fatally, answering a domestic call on April 4, 2009. A fifth officer was injured with a broken leg.
Neighbors, police officers and city officials who were there 10 years ago call it the worst day of their lives.
Johann and Donald Devinney, who live directly across the street, remember hearing the first shots, three booms in succession. Johann at first thought it sounded like wind blowing over garbage cans.
When they look across the street today, they can visualize the gunman standing there with rifle in hand, staring at them for a moment after he shot the officers.
"It was terrible. No one should have to go through that," Johann said.
For Pittsburgh police Chief Scott Schubert, then a commander in charge of the city's SWAT team,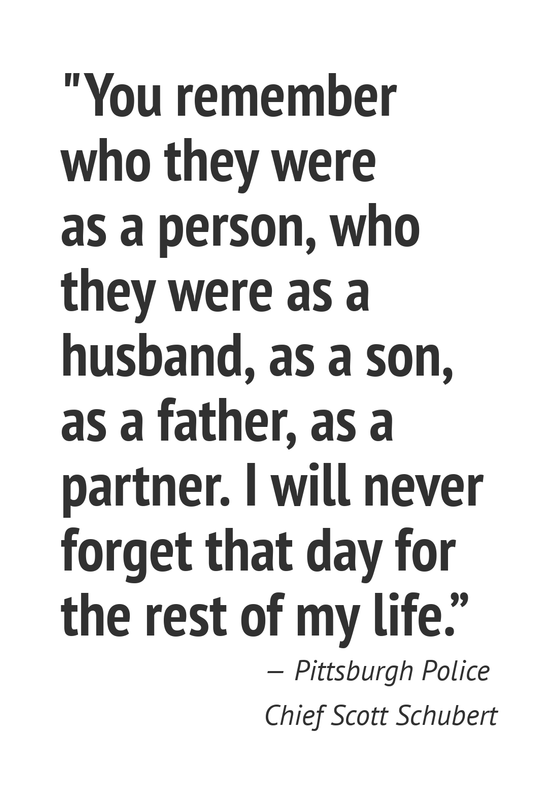 memories can flood back with the sound of fireworks or a visit to the Zone 5 police headquarters where the three officers were stationed.
Mayhle and Sciullo were killed first after responding to the domestic call. Kelly, who lived in Stanton Heights, was on his way home from work and responded to a call for officers in trouble.
"You don't just think about that day," Schubert said. "You think about them, and who they were. You see the smiles on their faces. You remember who they were as a person, who they were as a husband, as a son, as a father, as a partner. I will never forget that day for the rest of my life."
Former Public Safety Director Mike Huss remembers the morning being bright and crisp with no clouds. He also remembers the gunfire. It went on for hours as city SWAT officers engaged the gunman in a firefight.
"It's always with you. It never leaves," Huss said. "I remember the courageous acts. Officer Mayhle engaged in a very aggressive, very courageous gunfight with him inside the residence. Eric Kelly did not have to be there that day. He chose to be there. How do you forget that sacrifice, and what the families had to go through, and what the bureau had to go through?"
Both Schubert and Huss remember an outpouring of support from Pittsburgh residents.
"Seeing the people at the funeral procession, how many people came out and were holding up signs and expressing their respect and their love and their grief," Schubert said. "It was amazing. I think it affected the whole community."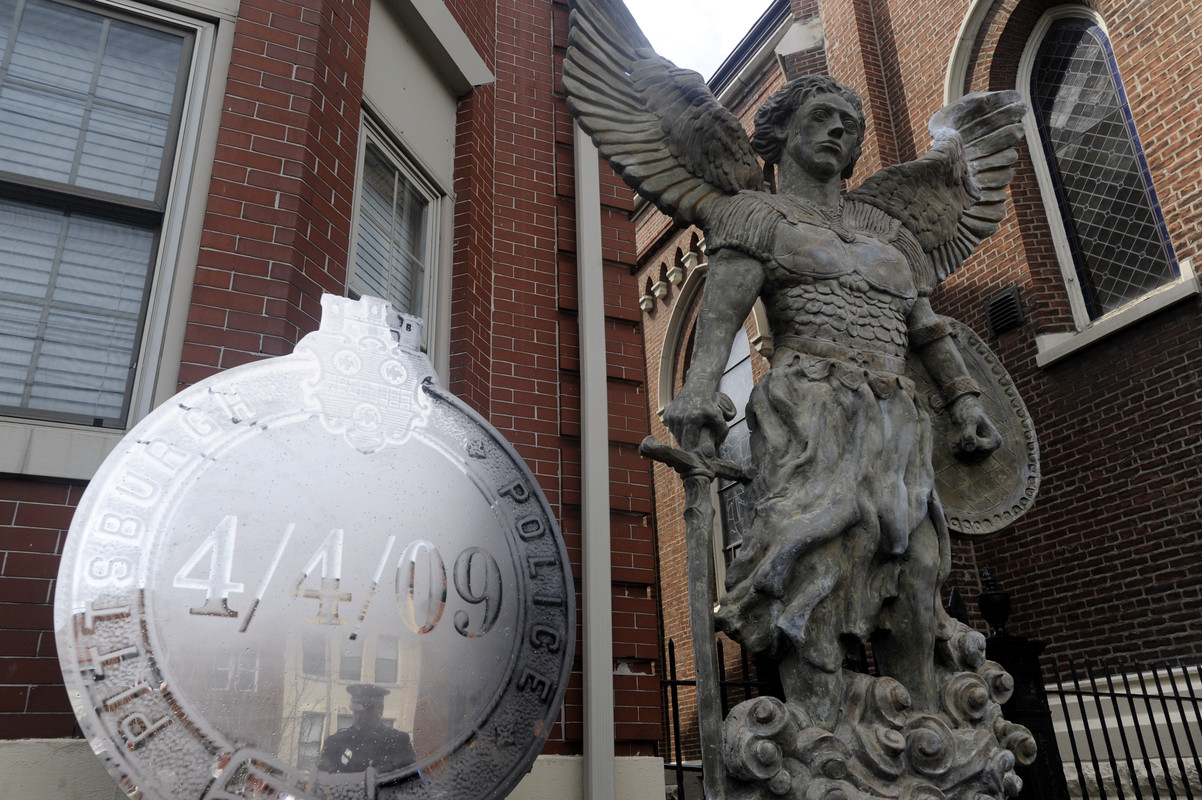 A Pittsburgh police officer is reflected in a badge that sits at a memorial to Pittsburgh police officers Paul Sciullo, Stephen Mayhle and Eric Kelly who were gunned down in the line of duty two years ago on April 4, 2009.
Mayor Bill Peduto, then a city councilman, remembers the aftermath, meeting with the families, the viewings, the funeral and raising money for a memorial to the three officers outside St. Maria Goretti church in Bloomfield. The monument, a sculpture of the Archangel Michael, the patron saint of police officers, still stands.
"I've reached out to each of the families just to let them know that the people of Pittsburgh will always be there for them," he said.
The Devinneys said the neighborhood is quiet now. More than half of the homeowners who lived in their block 10 years ago have moved away. The curious no longer drive down the dead end street for a glimpse of the house.
They were relieved when the city tore it down, saying it brought back bad memories every time they walked out their front door.
People no longer ask them about the events like they once did, but the memories linger.
The Devinneys recently had a new roof installed. The contractor found a spent bullet lodged in the roofing.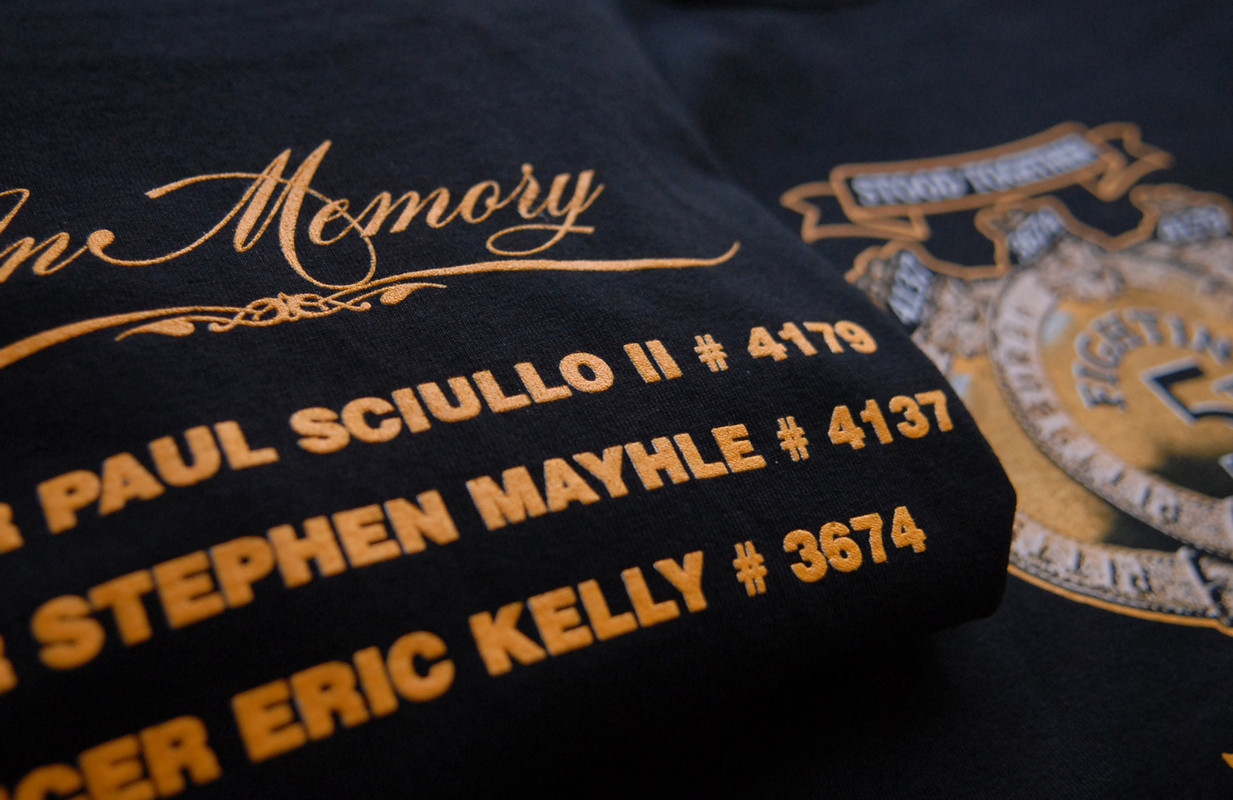 T-shirts made in memory of fallen Police Officers Eric Kelly, Stephen Mayhle and Paul Sciullo who were killed on April 4, 2009.
On Thursday, Johann will don a memorial long-sleeved T-shirt produced 10 years ago in memory of the slain officers as she has every year since 2009. She'll wear it to an exercise class in Morningside, and people will see it and remember, she said.
"I'm sure every one of the neighbors thinks about it," she said. "Last year, there was one police officer who came down. He just stood there and, I guess, he said a prayer."