U.S. Steel announces $1B investment in Edgar Thomson, Clairton plants
Nate Smallwood | Tribune-Review
Nate Smallwood | Tribune-Review
Tribune-Review
Nate Smallwood | Tribune-Review
Nate Smallwood | Tribune-Review
Nate Smallwood | Tribune-Review
Nate Smallwood | Tribune-Review
Nate Smallwood | Tribune-Review
Nate Smallwood | Tribune-Review
Nate Smallwood | Tribune-Review
Nate Smallwood | Tribune-Review
Nate Smallwood | Tribune-Review
Nate Smallwood | Tribune-Review
Nate Smallwood | Tribune-Review
Nate Smallwood | Tribune-Review
Nate Smallwood | Tribune-Review
Nate Smallwood | Tribune-Review
---
U.S. Steel announced Thursday it will invest $1 billion to upgrade facilities at its Mon Valley Works.
The investment includes a new endless casting and rolling facility at the Edgar Thomson Plant in Braddock and a cogeneration facility at the Clairton Plant.
"This is a truly transformational investment for U.S. Steel," President and CEO David Burritt said in a statement.
The new endless casting and rolling facility is the first of its kind in the country and one of only a few in the world, the company claimed. The upgrades will help U.S. Steel be more efficient and environmentally sustainable, reducing particulate matter, fine particulate matter, sulfur dioxide and nitrogen oxide emissions, the company said.
"The response to the community is we're going to run this business as effectively as we can, and the safest and most environmentally friendly way that we can," Burritt said speaking with reporters after Thursday's program. "We're doing that each and every day, and with this technology it's going to take us to an even better level."
U.S. Steel is facing several lawsuits related to emissions violations that occurred in the months following a Dec. 24 fire at the Clairton Plant that damaged equipment and hindered the facility's ability to clean coke oven gas, including a class action lawsuit initiated by an East Pittsburgh resident on behalf of residents of the Mon Valley. Pennsylvania environmental groups also have brought lawsuits in federal court.


U.S. Steel announced a new endless casting and rolling facility at the Edgar Thomson Plant. This graphic from the company shows of the facility will work.
The United Steelworkers welcomed the announcement. Union leaders said the upgrades will not take away jobs but instead bolster job security.
"These investments will provide much-needed job security for current employees and future generations of Steelworkers at this historic and soon-to-be much more modern integrated steel making complex," Vice President Tom Conway said in a statement.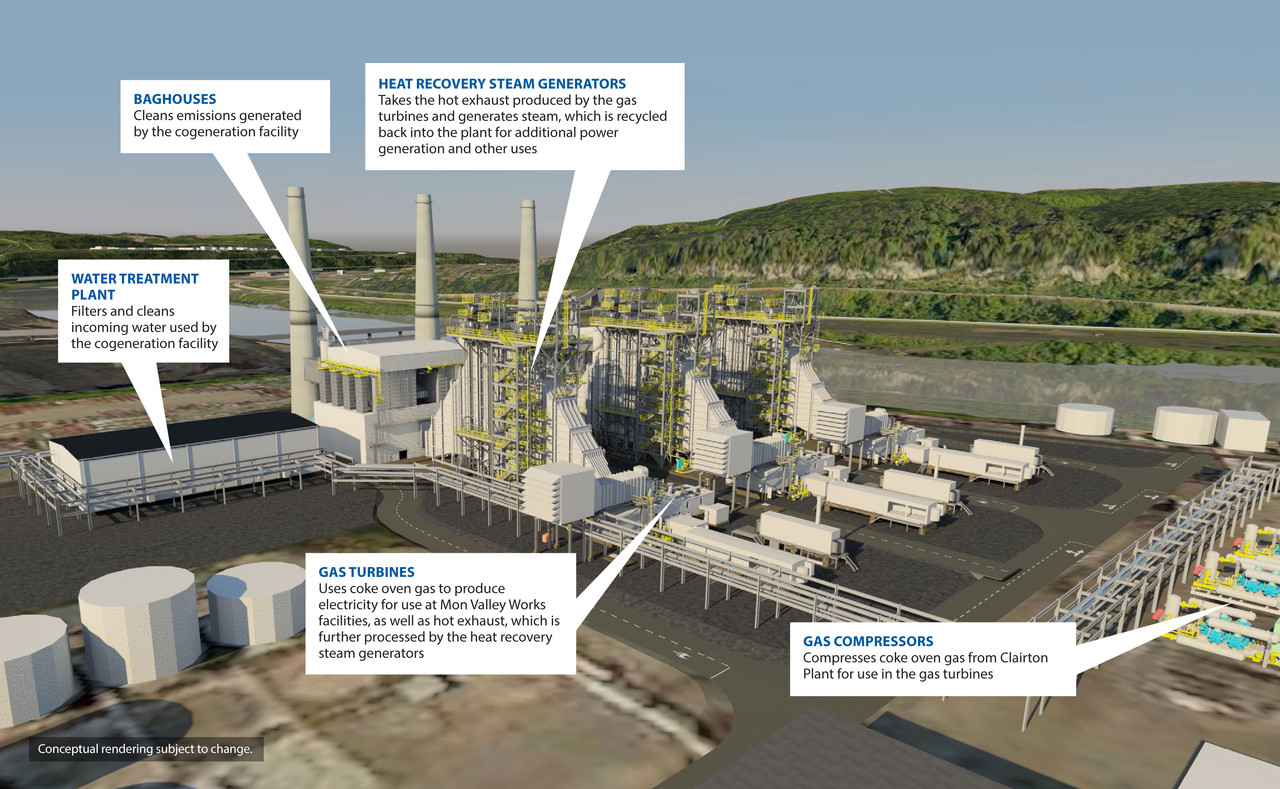 U.S. Steel announced a cogeneration facility at the Clairton Plant. This graphic from the company shows what a cogeneration facility is.
U.S. Steel Senior Vice President for Consumer Solutions Sara Greenstein said the company is prepared to break ground as soon as permits are finished and does not expect any shutdowns during construction.
The facilities are projected to be online by 2022, she said.
Greenstein could not comment on whether public funds will be used for the project.
Allegheny County Executive Rich Fitzgerald congratulated U.S. Steel and thanked the company for helping to make sure that there's going to be steel in the Mon Valley for generations to come.
"We have the responsibility to make sure we make our communities better, both with jobs and the environment," Fitzgerald said, adding that he commended efforts to bring pollution emissions into compliance and to invest in technology that would continue to reduce pollution.
Lt. Gov. John Fetterman, the former mayor of Braddock, attended the event with his wife, Gisele Fetterman. He called the project a "game changing" investment in Braddock.
"I want to thank you for the incredible honor of working with you on this partnership to make sure that this region, and these union workers, and this way of life not only is sustained, it is actually advanced in a cutting-edge way that will make us a national leader right here in Braddock in steel making here in the United States," Fetterman said.
Fetterman served as mayor of Braddock for 13 years. His family still lives there as he splits his time between Braddock and Harrisburg.
Fetterman said he was not able to comment on whether any public funds would be used for the project.
Jamie Martines is a Tribune-Review staff writer. You can contact Jamie at 724-850-2867, [email protected] or via Twitter .