Want to live car-free? Pittsburgh is 11th-best metro area in nation
---
As more people in American cities are reducing their use of cars, Pittsburgh rates high as a place where one can live car-free.
In the Metro Car-Free Index released this week by CityLab, Pittsburgh came in at No. 11 among large metro areas with over 1 million people.
The report — by Richard Florida, a former Carnegie Mellon University professor, and his University of Toronto colleague Charlotta Mellander — examined the number of households without access to a vehicle and the share of commuters who either take transit, bike or walk to work.
The data relied on the U.S. Census' 2017 survey. Metros were classified into four groups by population size from 250,000 people to more than a million.
Aside from the No. 11 ranking, Pittsburgh "ranks in the top 10% of all 382 metros at 37th," Florida said in an email.
"As a former Pittsburgher, I am so proud of my city," Florida said.
When first published Sept. 24 by CityLab, the report put Pittsburgh at No. 10. But a subsequent recalcuation adjusted the list, knocking Pittsburgh down a spot.
The top ranking went to the San Francisco-Oakland-Hayward, Calif. metro area, followed by Boston-Cambridge-Newton, Mass-NH and New York-Newark-Jersey City, NY-NJ-PA .
While San Francisco took the top prize, New York and the largest share of households at 22% without access to a personal vehicle. The Big Apple also had the most commuters who use transit to go to work at more than 30%, almost double that of San Francisco.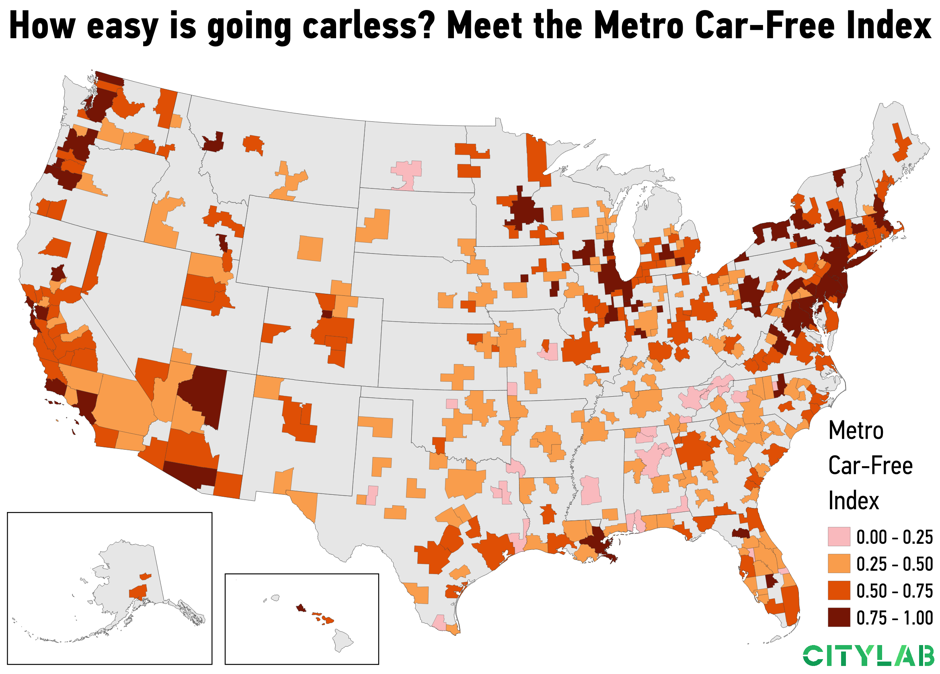 citylab.com
State College ranked high in the Very Small Metro category: No. 2 among areas with 250,000 to 500,000 people.
The car-free movement isn't just about the cost of owning and maintaining a vehicle. It's also about the creating more space for pedestrians and lower CO2 emissions. At least 12 cities — including Mexico City, Madrid Spain and Brussels — have banned or restricted cars from their city centers.
But as Florida notes in the report CityLab, which he co-founded, "being able to go without a car isn't just a matter of personal commitment—it depends a lot on where you live."
Denser cities like New York typically have better transit systems, and are more walkable than others.
Large metros where it is the most difficult to go car free included Birmingham-Hoover, Ala., Nashville-Davidson-Murfreesboro-Franklin, Tenn. and Raleigh, N.C.
Going car-free in the United States, Florida contended, is positively associated with college attainment and what he describes as the creative class and negatively related to the blue-collar, working class. He further found a stronger association for car-free living to liberal metros based on how people voted in the 2016 presidential election.
Despite the expense of owning a vehicle, Florida notes, ironically, that going car-free often requires money.
"It helps if you can afford living close to where you work or near good transit, or in a walkable neighborhood with most of life's necessities close by," Florida wrote.
Florida is an urban theorist best known for his 2002 book "The Rise of the Creative Class: And How it's Transforming Work, Leisure, Community and Everyday Life." His creative class theory asserts that young, creative workers – scientists, engineers, architects, educators, writers, artists and entertainers — are the new engines of economic growth.
To read the full report, click here.