'Focus on finding her': Family, friends search for answers in the disappearance of Cassandra Gross
Kathe Gross plucked the magnet off the refrigerator.
"When you get too tired shopping, sit down and buy shoes," it read.
She packed away the Donnie Iris album that belonged to her only daughter and the designer clothes and shoes she loved to wear — and buy.
She shuttled boxes in and out of the brick building with white shutters in a small complex close to Route 30 in Unity.
Twenty-six bins of clothes — about a third of them with price tags still attached — now create a maze in Kathe Gross' Derry Township home.
"That's not counting the shoes. That's just the clothes," she said.
The contents of the Edgewater Village apartment where Cassandra Gross lived are all her mother has left of her daughter's life.
Kathe Gross has her stuff. But she doesn't have Cassandra, who responded equally to the nicknames Cass, Cassie and Billy.
Fifty-three days after she last talked to her daughter, Kathe packed up the contents of her life in late May.
"When I closed that door, I thought I was going to die," Kathe Gross said. "It's one of the hardest things I've ever done in my life. ... But now I can focus on finding her."
***
At 12:50 p.m. Tuesday, April 10, Pennsylvania State Police announced they had opened a missing persons investigation. No one had heard from Cassandra Edlyn Gross in nearly three days, the agency reported.
Cassandra's 2016 Mitsubishi Outlander also was missing, police said.
We have a missing person's investigation for Cassandra Edlyn Gross 51. Cassandra resides at Edgwater Village in Latrobe. Last talked to by telephone on 4/7 3:30pm. Her vehicle a 2016 Mitsubishi Outlander PA Reg HLP 1411 is also missing. Anyone w/ info contact 911 pic.twitter.com/WWnrfcqEJp

— Troop A Public Information Officers (@PSPTroopAPIO) April 10, 2018
By then, her parents were wracked with worry. Cassandra's beloved little white dog, Baxter, had been found the day before, alone near Beatty Crossroads.
For two months, family members and friends have struggled to cope with the mystery surrounding her disappearance.
They gathered amid candlelight in a Latrobe park.
They reached out to a national organization for help in launching a search.
They organized a fundraiser to help with expenses for Cassandra and Baxter.
What they want most, however, has been elusive.
"I'm asking God every night for a miracle, to let us know where she's at," said Karen Reinard, Cassandra's aunt. "It just breaks my heart that we don't know where she is.
"We know in our hearts that she's not missing, that she's dead. We just wish we could find her."
***
Cassandra Gross had plans.
She headed to Greensburg on April 7, a Saturday, for lunch with a friend. First, she had to buy a birthday card.
Cassandra slipped on a black-and-white turtleneck and jeans. Over her shoulder, she slung the beige Coach purse she had purchased a week earlier during a trip to an outlet store in North Carolina while visiting her son.
She said goodbye to Baxter, left her apartment and got into her red Outlander to start the 15-minute drive west to Greensburg. She stopped at the Hallmark store in Hempfield to pick out a card, and a few items for herself.
Cassandra wrote a birthday message to the teenage daughter of her friend, Mary Ann Dicks, and tucked some cash inside the envelope. It didn't matter that the card was two months late.
The two women — who refer to each other as "wifey" — hugged at the Parkwood Inn Restaurant in Southwest Greensburg. Close friends as students at Greensburg Salem High School, they had reconnected about five years ago when Dicks was planning their 30-year class reunion.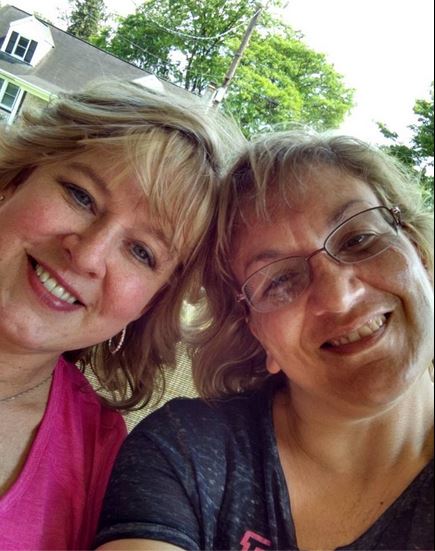 Cassandra Gross and friend Mary Ann Dicks.
They both ordered wedding soup and cheesy garlic bread.
Cassandra joyfully recounted her trip over Easter weekend to visit her 29-year-old son, Brandon Diebold. She showed Dicks a few rings she had bought, and the women mulled over which looked best with Cassandra's outfit.
Dicks brought up a man who had been harassing Cassandra, but her friend brushed off the topic.
They ate, talked for a couple of hours and departed.
Cassandra called her mother at 3:35 p.m. while driving on Route 30. They made plans to see each other Sunday.
"She said, 'I'm home, I'll see you tomorrow, I love you, ' " Kathe remembered. "She wasn't upset at that point. She was home, and she was going to let the dog out.
"What happened after that, nobody knows."
***
Cassandra would have turned 52 on May 17. She spent part of her childhood in Jeannette, running around with a group of kids in her neighborhood. They'd walk to school together and play kickball and hide-and-seek.
Eric Cottrell, now of Ohio, remembered the group sliding down a big sheet of ice that would form on Guy Street after winter storms. He said Cassandra was sort of quiet but enjoyed being around the other kids.
Eventually, Kathe and Harry Gross Jr. moved Cassandra and her two younger brothers to South Greensburg. After graduating from high school in 1984, she attended Westmoreland County Community College and started doing secretarial work around the area.
She gave birth to a son. She married three times — and divorced three times, most recently in 2014, according to county records.
Cassandra was devastated when her brother Randy died of a heroin overdose in 2002. The siblings had shared a tearful phone call in 2001 when Randy admitted he had a problem. Cassandra encouraged him to tell their parents and get treatment.
She had a shrine to him in her apartment and opened a store in his memory called "Inspired By You," which sold religious items in Latrobe.
Family and friends said people gravitated toward her kind, upbeat, fun-loving personality.
In recent years, she earned a master's degree in business from Point Park University in Pittsburgh.
Cassandra worked at Westinghouse Electric's Waltz Mill plant and, most recently, as an administrative assistant at the technology firm ABB near Pittsburgh. The job meant early mornings and hour-long commutes filled with frequent phone calls to her mother and others.
"She was a real treasure in the office. We miss her a lot," said co-worker Tom Kimicata of Monroeville, who described Cassandra as organized, disciplined and trustworthy. "I pray for her every day that she'll turn up and be safe."
Kimicata and colleague Tom Riley, of Bethel Park, called her disappearance surreal. Co-workers sent the family food on Mother's Day and met with them and Cassandra's son last month.
"When you saw her coming, you looked forward to talking to her," Riley said.
***
Kathe Gross couldn't reach her daughter on April 8, despite their Sunday plans to get together. It didn't overly worry her.
When the workweek resumed Monday morning, Harry Gross went to Cassandra's Edgewater Village apartment to let Baxter out. It was his daily routine at 10 a.m. and 2 p.m.
That's when Kathe's heart dropped.
"He said she wasn't there and the dog's not there," Kathe said. "I immediately called the police."
Kathe and Harry went back to Cassandra's place at 2 p.m. Still nothing. She hadn't shown up at work either.
While investigators at first weren't convinced there was a problem, that changed when Baxter was found wandering along Beatty County Road.
On April 10, a Tuesday, the Outlander in which Cassandra had spent so much time driving to and from work was found burned nearly beyond recognition. A Norfolk Southern employee spotted the vehicle along a rail line near Twin Lakes Park, about seven miles from Cassandra's home.
"When they found the dog, I knew something terrible had happened to her — because you don't separate her and the dog," Kathe said.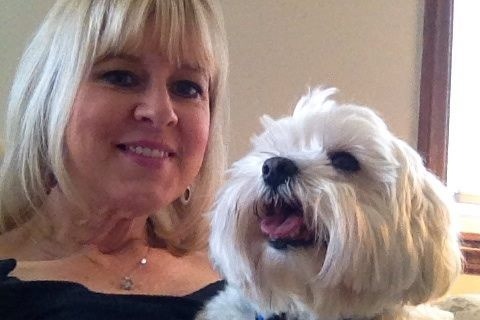 Cassandra Gross and her dog, Baxter.
***
Kathe Gross would joke that Cassandra loved her dog more than her son.
Baxter, blind and diabetic, had a personality all his own. Since being found, he had an eye removed because of an infection. He is staying with a friend of Cassandra's.
Cousin Jennifer Knowles would grab a pizza and take it over to Cassandra's house on the weekends, giving Knowles' son time to play with Baxter. The dog loved car rides, running in circles and knew he would get a treat at the Rite-Aid pharmacy drive-thru window.
"She loved her dog; that dog was like a child," Knowles said. "That thing was spoiled rotten."
When Cassandra visited her parents' house, Baxter would make a beeline to the refrigerator and wait for a piece of cheese.
"She would get upset — 'Where's Baxter's cheese? ' " Kathe Gross recalled. "That was her baby."
And just like his "mom," Baxter would be dapperly dressed in a sweater.
Cassandra's wardrobe was extensive.
She frequented stores such as Marshall's and Burlington, hunting for deals on designer clothes. In fact, calls to her cellphone only reached voicemail when she was shopping.
"I think everybody in the mall knew her by name," Kathe said.
Reinard often was the beneficiary when her niece cleaned out her closet. Many times, the items were brand new.
"She used to give me like garbage bags full," said Reinard, who cleaned Cassandra's place every couple of weeks.
"She loved sweaters, even in the spring you would see her wearing a sweater," said Knowles, who is Reinard's daughter. "Anytime she went out, she was well-dressed."
Cassandra tried to get her mother to change her preference for pastels by buying her the bold, bright clothing she favored. It didn't work.
***
In the days and weeks after Cassandra's disappearance, Kathe spent most of her time on the phone with friends and family members desperate for news.
Now, the calls have slowed.
But the cordless phone is always by her side, just in case the call she's been waiting for finally comes.
"(Cassandra) has left a hole in her parents' life," said family friend Beth Straka. "They're just lost. It's devastating to them. That's what hurts the most is watching her parents going through this."
Family and friends directed authorities to Thomas G. Stanko, 47, who they described as an acquaintance of Cassandra's. They said he had become obsessive and violent toward her, ringing her doorbell relentlessly and threatening suicide, among other things. They encouraged her to get a protection-from-abuse order against him or call the police.
Cassandra didn't, instead trying to back away from the situation. She would change the subject when anyone brought him up.
"It's like we're stuck in a bad Lifetime movie," her friend Dicks said.
Stanko has denied involvement. No arrests have been made, but police and prosecutors have worked hard to keep him in jail on new criminal charges and parole and probation violations — none directly related to Cassandra's disappearance.
Investigators spent at least two days combing two properties Stanko owns in Unity.
Family and friends now are playing detective. They're convinced that someone knows what happened to Cassandra and where to find her.
"No matter where I go ... I look everywhere," Knowles said.
Kathe keeps track of all the information she has received. She is a stoic presence in the courtroom anytime Stanko has a hearing, most of which seek to win his release from jail. The last was two weeks ago, when a judge determined he would remain in custody until he is resentenced for threatening five people visiting a grave at Unity Cemetery in 2015.
In the meantime, Kathe and Harry have tried to continue their lives amid a house and garage filled with reminders of their daughter. Kathe feels like she's slowly losing her mind. She worries that Cassandra will be forgotten.
She just wants her daughter to come home.
"You know who did it, but you can't prove who did it," Kathe said. "You know she's dead, but you can't get to her. It's horrible; it's worse than any horror movie you've ever watched — just knowing she's laying out there somewhere by herself, and there's nothing I can do to go get her."
***
After visiting with her parents, Cassandra would pick up Baxter and move his paw up and down as if he was waving to them.
" ' Tell grandma bye. Tell pappy bye, ' " she would say.
Renatta Signorini is a Tribune-Review staff writer. Reach her at 724-837-5374, rsignorini@tribweb.com or via Twitter @byrenatta.
Submitted
Shane Dunlap | Tribune-Review
Submitted
Shane Dunlap | Tribune-Review
Shane Dunlap | Tribune-Review
Shane Dunlap | Tribune-Review
Dan Speicher | Tribune-Review
Submitted
Submitted
Submitted
Submitted
Shane Dunlap | Tribune-Review
---
TribLIVE commenting policy
You are solely responsible for your comments and by using TribLive.com you agree to our Terms of Service.
We moderate comments. Our goal is to provide substantive commentary for a general readership. By screening submissions, we provide a space where readers can share intelligent and informed commentary that enhances the quality of our news and information.
While most comments will be posted if they are on-topic and not abusive, moderating decisions are subjective. We will make them as carefully and consistently as we can. Because of the volume of reader comments, we cannot review individual moderation decisions with readers.
We value thoughtful comments representing a range of views that make their point quickly and politely. We make an effort to protect discussions from repeated comments either by the same reader or different readers
We follow the same standards for taste as the daily newspaper. A few things we won't tolerate: personal attacks, obscenity, vulgarity, profanity (including expletives and letters followed by dashes), commercial promotion, impersonations, incoherence, proselytizing and SHOUTING. Don't include URLs to Web sites.
We do not edit comments. They are either approved or deleted. We reserve the right to edit a comment that is quoted or excerpted in an article. In this case, we may fix spelling and punctuation.
We welcome strong opinions and criticism of our work, but we don't want comments to become bogged down with discussions of our policies and we will moderate accordingly.
We appreciate it when readers and people quoted in articles or blog posts point out errors of fact or emphasis and will investigate all assertions. But these suggestions should be sent via e-mail. To avoid distracting other readers, we won't publish comments that suggest a correction. Instead, corrections will be made in a blog post or in an article.