After 135 years of floods, riots and escapes, Pennsylvania's oldest prison goes quiet
Andrew Russell
|
Tribune-Review
---
If The Wall could talk, what stories would it tell?
It would tell of an unsuccessful tunnel escape and, nearly a century later, one that succeeded. It would speak of riots and fires and offer the scorched beams in the auditorium as proof. It would speak of at least a half dozen floods, including one that sent 15 feet of water surging into cells in 1936.
The Wall would tell the stories of four corrections officers killed during its 135-year history: The stories of Deputy Warden John Pieper and Sgt. John T. Coax, killed in 1924, guard Cliff Grogan killed in 1965, and Capt. Walter Peterson, killed in 1973.
The Wall surrounding SCI Pittsburgh, the oldest prison in Pennsylvania, would tell a lot of stories.
---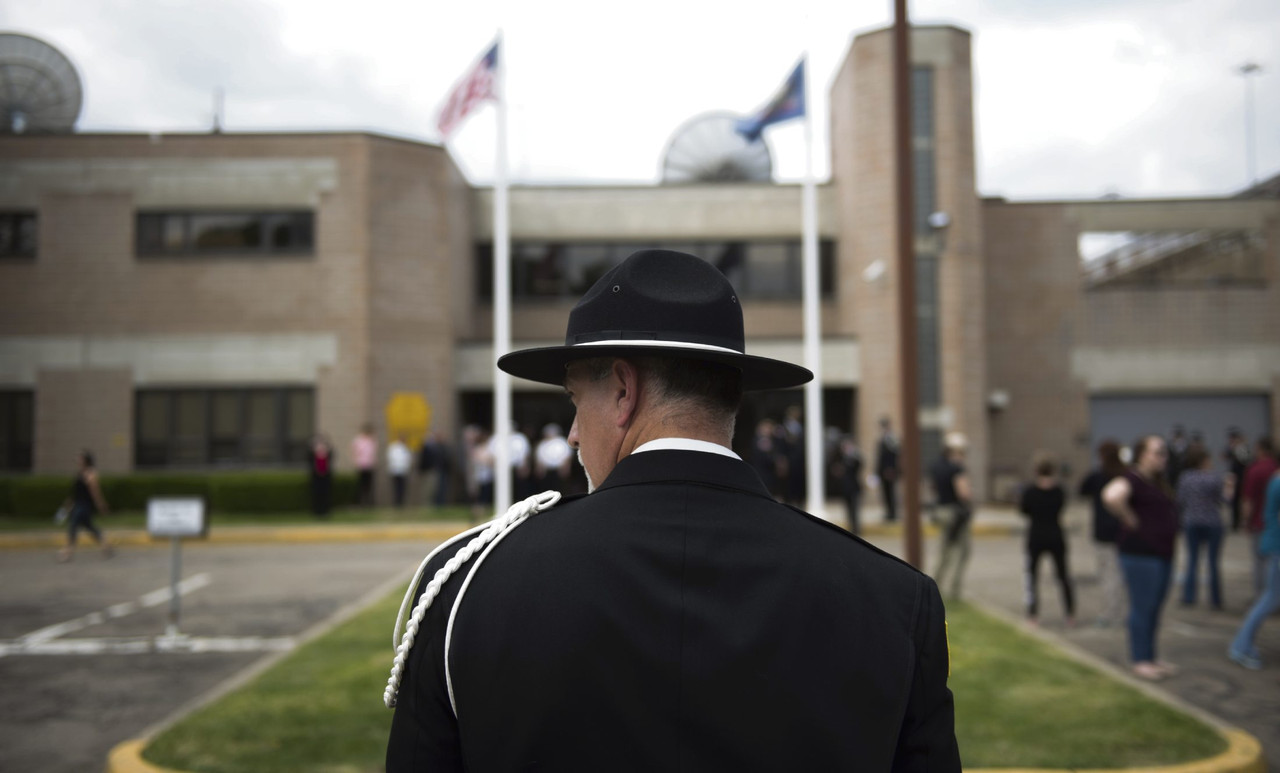 Corrections officer and SCI-Green County Honor Guard member Frank Trout gets ready for start of a ceremony to lower the flags at SCI Pittsburgh for the last time after the state decided to close the prison's doors.
---
Now, though, it is quiet.
The inmates are gone. A skeleton crew maintains the facility. The state Department of Corrections decided in January that the prison should close to save money – about $81 million.
Superintendent Mark Capozza's footsteps echo through empty halls. A doorknob falls off in his hand.
"It's amazing the deafening silence that falls over this place," he said.
---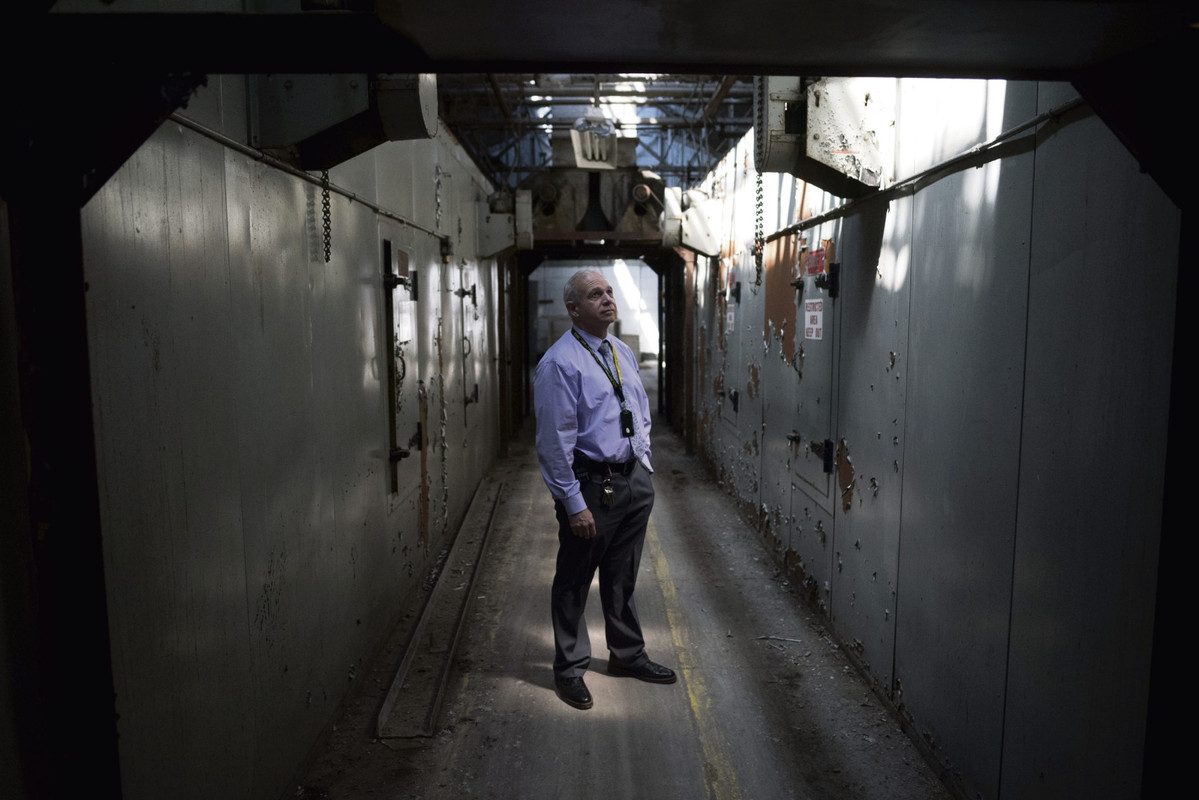 Prison Superintendent Mark Capozza looks around the decommissioned license-plate factory at SCI Pittsburgh.
---
The sprawling 21-acre prison complex with 11½ acres enclosed by a 40-foot wall – hence the nickname – was shuttered once before.
But unlike 12 years ago, this time feels final.
The last nine inmates were shuttled to a different facility May 19.
That afternoon, the prison held a final ceremony to retire the colors.
"We can look back and take pride in operating this city within a city, known as 'The Wall,'" Capozza said.
An honor guard presented him with the retired American flag. Correctional officers, guards and dozens of other employees held cell phones, filming some of the prison's great moments.
---
Corrections officer Jerry Fulvi leads the Allegheny County Honor Guard in a ceremony to lower the flags at SCI Pittsburgh.
---
"As we prepare for a new mission," Capozza said, "we all leave proudly … keeping the pride of SCI-Pittsburgh, Western Penitentiary, 'The Wall' – the pride innate and uncommonly unique to this facility – with us wherever we are."
•••••
---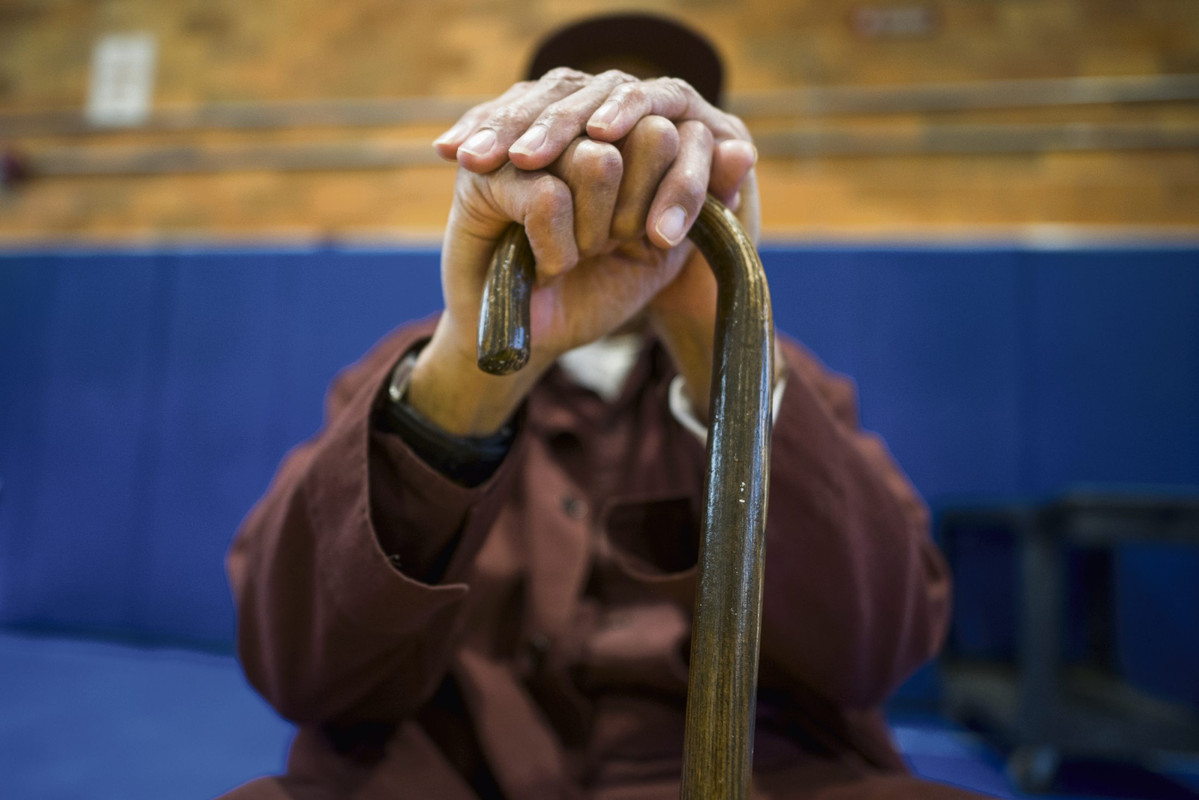 The prison's longest-serving inmate watches SCI Pittsburgh get packed into boxes at the prison's gymnasium, which served as a staging area for the prison's shutdown
---
SCI Pittsburgh's longest-serving inmate was one of the last to leave.
Weeks before his departure, he sat with a cane in the gym, watching staff move this way and that, in shut-down mode.
He'd been here 42 years, save for the three years he spent at SCI-Greensburg during the prison's first shutdown, in 2005.
Otherwise, The Wall is all he's known since he was 25.
"When you've been somewhere your whole life …" he said, "you don't want to say it becomes like home. But it's where you are."
---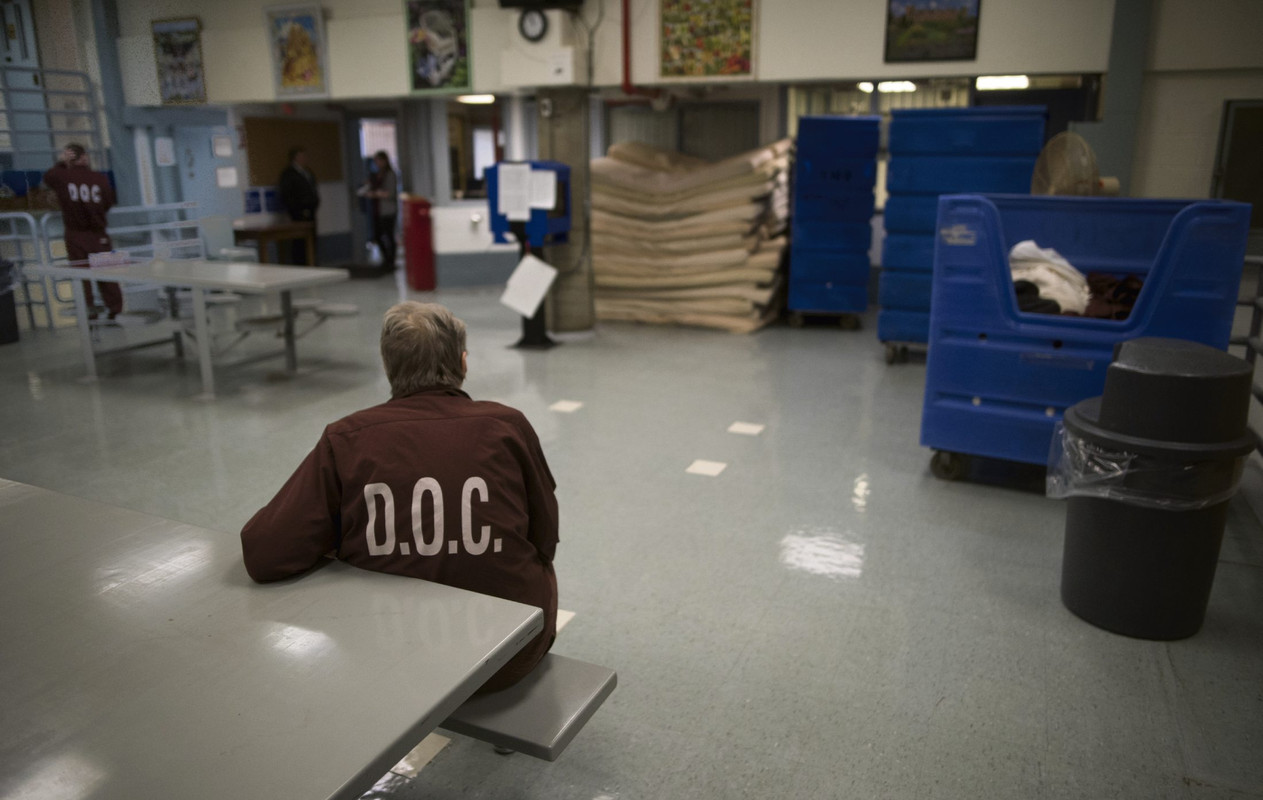 Inmates at SCI Pittsburgh sit in a common area, where mattresses are stacked for removal.
---
•••••
Sgt. Ricky Bedilion, roused from his Mt. Washington home in the pre-dawn hours of Jan. 27, 1986, didn't realize what he was walking into.
The early hour – about 3 a.m. – didn't tip him off. Neither did the hundreds of prisoners milling about the yard, nor that they were setting fire to picnic tables.
"They threw me a set of keys and told me to go to South Block," said Bedilion, 58. "As I walked in, I see all these inmates in the yard. At the time, I just thought they kicked them out of North Block, out of the fire. I didn't know there was a major riot going on."
Smoke coming from a basement utility tunnel forced the evacuation of a cell block, during which time fights broke out among prisoners, who also attacked guards. About 100 prisoners holed up in the auditorium and set it on fire.
He was a cadet back then, just doing what he was told.
"I got the key, opened the yard gate, walked right through them all, up the ramp," Bedilion said. "I banged on the door, and the sergeant came (and) looked at me and his eyes got the size of apples. He said, 'What are you doing out there?' and opened the gate and pulled me in."
---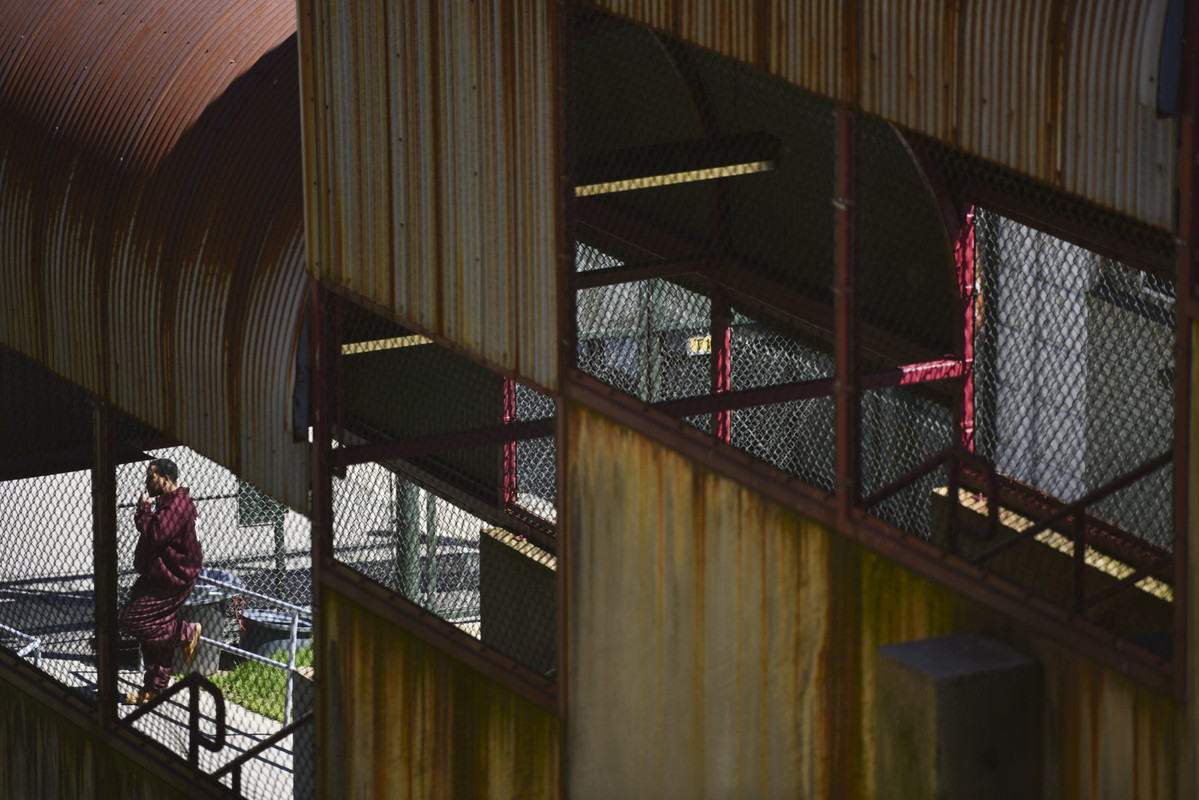 An inmate stands in the empty yard at SCI Pittsburgh. The prison, in its heyday, housed more than 2,500 inmates.
---
A United Press International report from Jan. 27, 1987, painted a more harrowing picture than a simple jaunt through the yard.
"An accidental pre-dawn fire … triggered a rampage by inmates who clashed with guards, fought one another and set other fires," the news service reported.
At least 31 men were injured, and the incident lasted more than eight hours.
"Inmates in the yard huddled around bonfires in the freezing weather while guards and police officers began a shakedown of cells to look for weapons," according to the report.
"You see inmates running around – they had picnic tables on fire. Well, OK, it was cold out. "So they're out there, I figure, it's 3 a.m., they're cold," Bedilion said. "It was scary after I thought about it.
"It was wild back then," Bedilion said. "Some crazy things happened in there."
•••••
For many the prison was home; and not just the inmates.
"I'm going to miss this," said Al Servello, a unit manager for 28 years.
Talkative and quick to tell a story or seven, his nickname in the prison is the Mayor of Pittsburgh – SCI-Pittsburgh, at least. He chuckles at the title, even as other employees playfully mock his talkative nature.
"I'm a people person," he said simply.
---
Corrections officer Al Servello walks through the decommissioned license-plate factory at SCI Pittsburgh. Outside of three years at SCI Mercer during Pittsburgh's first closure, he has spent his entire career at Western Pen.
---
While ascending the ranks from correctional officer to sergeant to lieutenant and finally unit manager, Servello spent a lot of time doing a lot of jobs. Everything from "getting inmates underwear to getting people paroled," he said.
Those roles – particularly as a unit manager – put him in a unique position to interact with inmates.
"Guys would open up to me about things they never discussed with another man," he said. "This has been absolutely rewarding. I've had many more good days than bad days."
---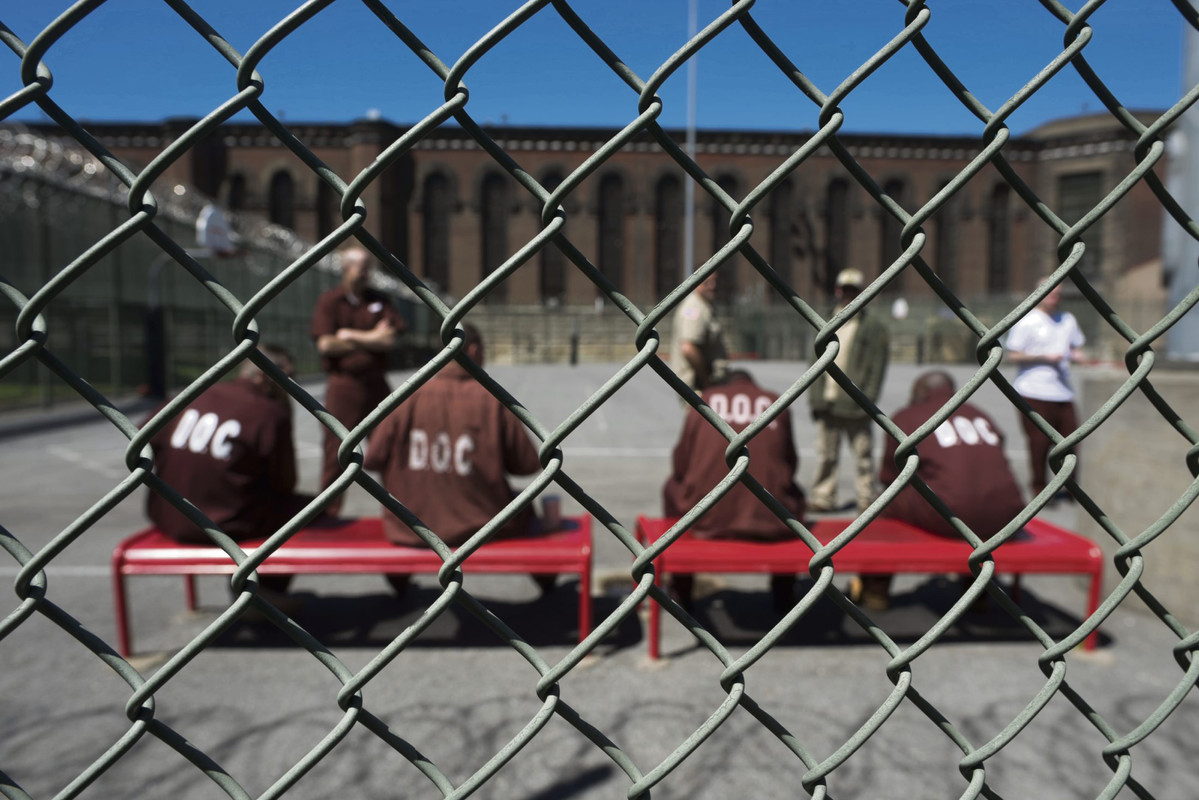 Inmates socialize in the yard at SCI Pittsburgh. Once flooded with inmates during recreation times, the yard stands mostly empty with just a few dozen inmates still awaiting transfer.
---
•••••
Even Bedilion will admit: It was a good plan.
The Jan. 8, 1997 escape involved six inmates who, using the prison's own power tools, spent six weeks digging a tunnel that would lead them from the prison's machine shop to a warehouse on the other side of The Wall.
Back then, prisoners with certain jobs were allowed out of their cells as early as 6 a.m., and they weren't expected back until evening. The six – two convicted killers and four thieves – met inside the machine shop before 10 a.m.
Other inmates created a diversion by sounding a trouble alarm in the prison's auto garage. Officers poured in, drawing the attention of the tower guards away from the machine shop and warehouse.
A 10:30 a.m. head count, and recount, showed six missing inmates.
"You hear all the time there are no secrets in jail," Bedilion said. "That was one of the only secrets that I can recall since I been here that we didn't know about it until after it happened."
"It was masterful," said Sgt. Al Scott, a correctional officer for 27 years.
•••••
Where Servello strived to make personal connections – "I run into some old former inmates in person and I'm treated like a long lost cousin," he said – Scott and Bedilion kept their distance.
"I put my eight hours in, and I don't think about this place again until I come back," Bedilion said. "Thirty-three years – you see inmates coming in when they're 21. You're here with them every day. You just watch them grow old with you. The only difference is I go home in the evening and they stay here."
Scott agreed: When you leave, you leave.
"It's not the best place to work in the world – it's kind of depressing," he said. "You just got to know to turn it off when you leave."
Both are retiring June 29 when the prison is officially mothballed.
It's just time, they said.
---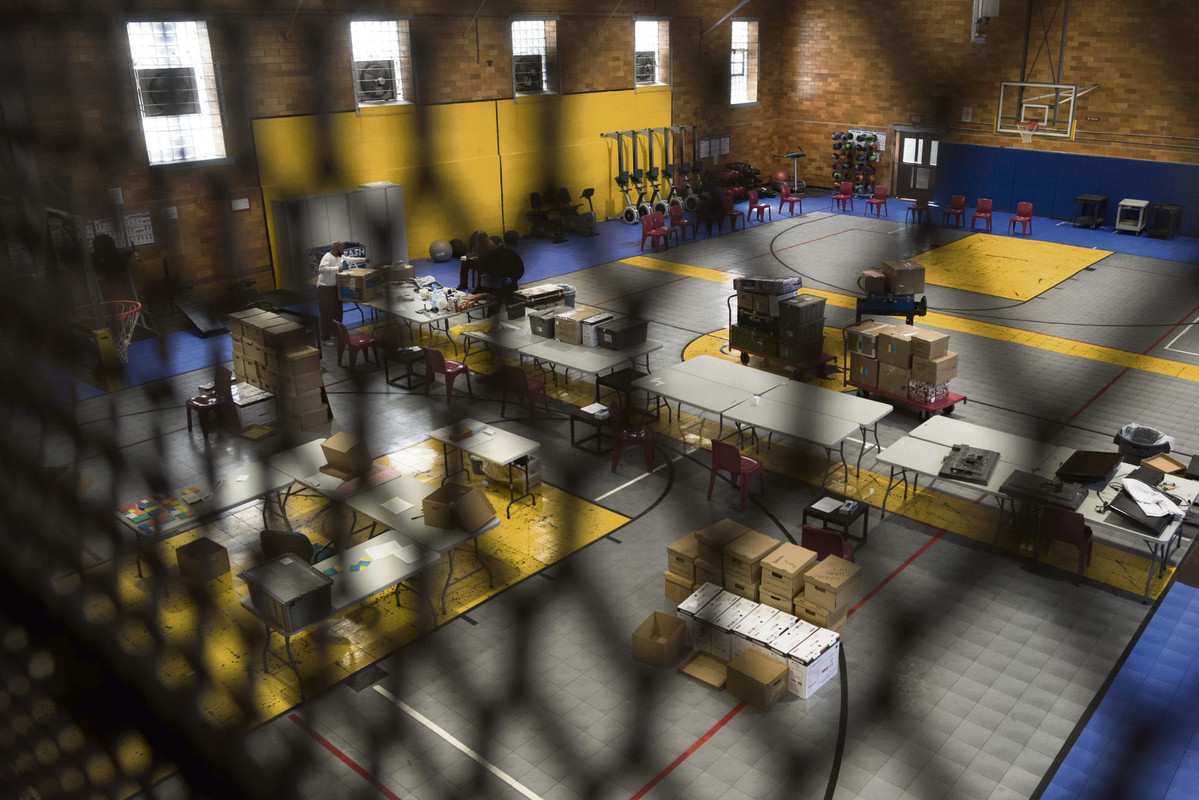 The gymnasium serves as a staging are for the shutdown of SCI Pittsburgh. Few inmates remain, and the last are shuttled to other facilities by mid-May.
---
•••••
Once on the other side, the six escaped inmates stole a car and eventually ended up in Houston.
Then they "got really stupid," Scott said.
"Instead of being smart and going their separate ways," he said, "they decided to, I guess, get some prostitutes and party and have this loud party."
One escapee took too much meth, and the others dropped him at a bus station. He was caught.
The dominos continued to fall, and the others were soon back in jail.
The break led to statewide changes for Pennsylvania prisons. Inmates were given fewer freedoms, were no longer permitted to wear their own clothes, and their freedom to keep personal items was restricted.
Bedilion chuckled at the memory.
"It was a different kind of day."
•••••
In his nearly three decades at SCI Pittsburgh, Servello has watched the prison transform.
"The hospital when I got here looked Medieval," he said. "It looked like something out of 'One Flew Over the Cuckoo's Nest.'"
When it reopened in 2007, the hospital specialized in treating inmates with mental health and substance abuse issues. The prison had a detox ward for new arrivals who needed to come off their addiction in a secure medical setting.
---
Cells at SCI Pittsburgh sit empty as the staff goes through the process of shutting down the state's oldest prison.
---
Inmates also had access to residential treatment facilities and therapy groups. About one-third of the inmates in recent years had some type of mental health diagnosis, and the prison housed a 10-bed specialized mental health unit and four psychiatric observation cells.
It was one of the first prisons to develop such special needs units, and Servello was one of the first correctional officers to work there, he said.
"There were big changes mental health-wise," Servello said. "It was a nice turn."
The changes weren't universally applauded.
"When I started, it was more discipline," Scott said. "Now it's geared more toward treatment. Their philosophy – I don't agree with it."
•••••
Servello was on the fence about the retirement until the end. He might still change his mind, but for now, he plans to go to SCI-Mercer. He doesn't want Pittsburgh's closure to be the reason he quits.
Twelve years ago at the 2005 final flag ceremony, Servello was mad. He didn't want the prison to close.
This time around:
"It's sad, but…"
---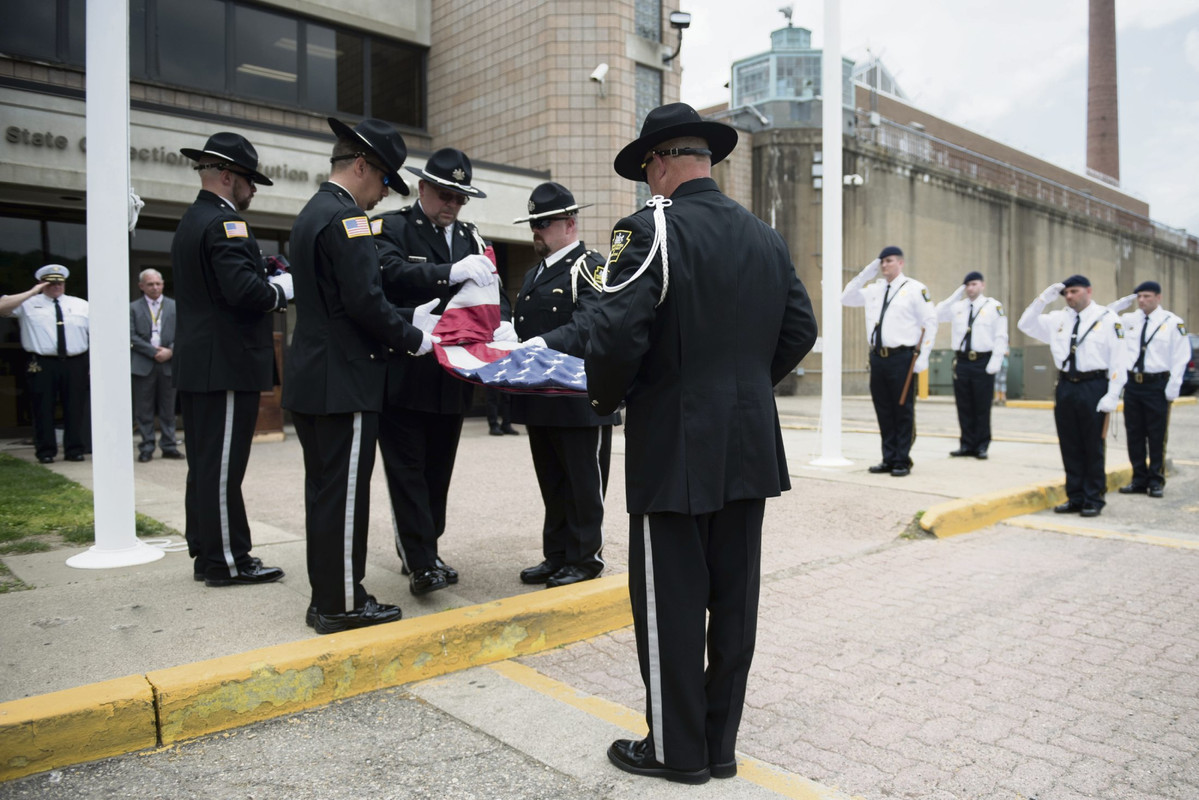 Corrections officer Jerry Fulvi leads the Allegheny County Honor Guard in a ceremony to lower the flags at SCI Pittsburgh.
---
At the final flag ceremony, a young officer watched the honor guard present the state flag to the Department of Corrections Executive Deputy Secretary.
"What are they giving that to her for?" the officer fumed. "She's the reason it's closing."
Servello gets it.
"That's what I was like the first time," he said. "It's amazing the change in perspective."
Now, he said, he feels humbled.
"Humbled to have been part of something bigger," he said. "Much bigger."
Megan Guza is a Tribune-Review staff writer. Reach her at 412-380-8519, mguza@tribweb.com or via Twitter at @meganguzaTrib. Andrew Russell is a Tribune-Review photographer. Reach him at arussell@tribweb.com or via Twitter at @RussBurgh.