Penguins can't close out Flyers in Game 5 as injured Couturier plays hero for Philly
Stanley Cup playoff history is littered with legends of players making heroic, game-winning plays while dragging bruised, broken body parts behind them.
This time, the Penguins were on the receiving end of it.
Sean Couturier scored a tie-breaking goal on a deflected shot from the blue line with 75 seconds left in regulation, leading the Philadelphia Flyers to a 4-2 victory in Game 5 of a first-round playoff series Friday night at PPG Paints Arena.
Having missed a chance to finish off the Flyers, the Penguins will travel to Philadelphia for Game 6 on Sunday afternoon.
"It obviously (stinks)," winger Bryan Rust said, "but we've got another one in a couple of days."
Couturier suffered an apparent knee injury when he collided with teammate Radko Gudas during Tuesday's practice and missed Game 4 on Wednesday night. He said he wasn't sure he'd be able to play in Game 5 until testing the injury during pre-game warmups.
His ice time was limited to less than 17 minutes, and his skating seemed to be affected, but he made the biggest play of the series thus far.
"He's a warrior out there for us," teammate Shayne Gostisbehere said. "It was exactly what we needed."
The Penguins outshot the Flyers, 13-8, in the third period and looked to be building to something when Couturier delivered the back-breaker.
The play started with Rust having a hard time clearing a bouncing puck near the blue line.
"Couldn't get a handle on it," Rust said. "Puck bounced between my feet and went to Couturier."
Couturier corralled it and took a shot from the center point that skimmed off the skate of Penguins defenseman Brian Dumoulin and past goalie Matt Murray.
"They had a guy in front," Murray said. "I kind of over-shifted a little bit. It redirected and went to the other side of the net."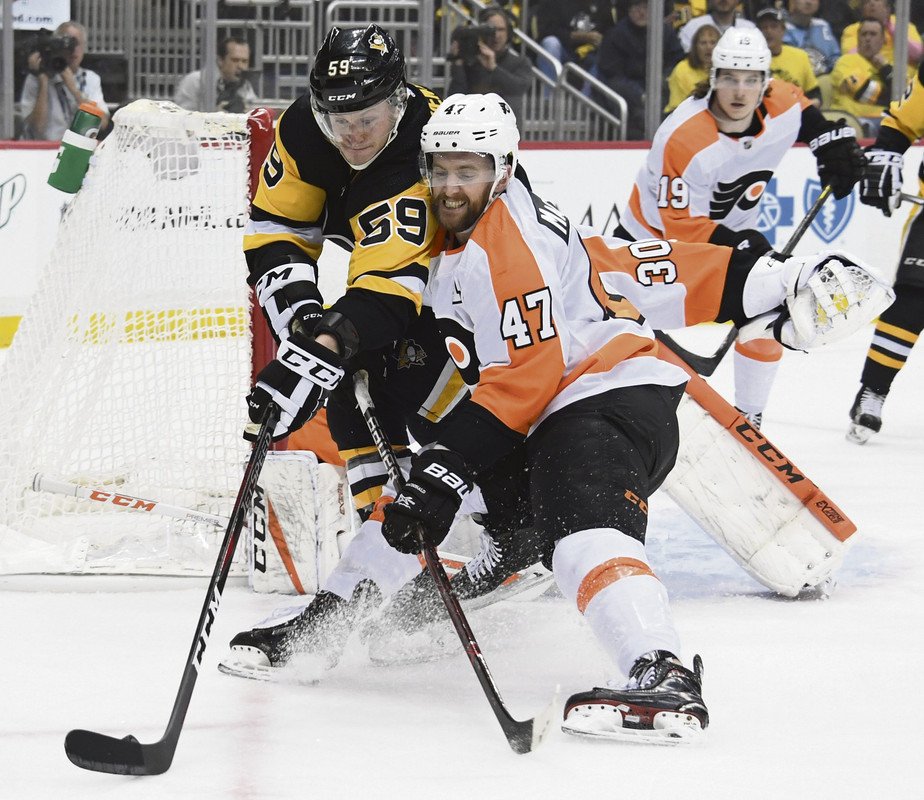 The Flyers' Andrew MacDonald defends on the Penguins' Jake Guentzel in the first period Friday, April 20, 2018 at PPG Paints Arena. For more images from Game 5, visit the Trib's photo gallery .
Photo by Chaz Palla
The Penguins had a chance to tie the score, but goalie Michal Neuvirth made a lunging glove save on Sidney Crosby at the right post with 50.3 seconds left.
"We're still confident in here," Dumoulin said. "We're playing good hockey. The elimination game is hardest one to win. We've got to try to get it done on the road."
The biggest blow the loss delivered to the Penguins might not be how it impacts the series. The Penguins have two more chances to dispatch the Flyers, whom they have outplayed for much of the previous five games. The biggest detriment could be the physical toll another battle with their cross-state rivals will take heading into either a pivotal Game 7 or a second-round series.
Evgeni Malkin went to the locker room for medical attention after Flyers center Jori Lehtera fell on his left leg late in the first period. Malkin was back to start the second, but a week off surely would have done him and his teammates a world of good.
"We just gotta put it behind us, and we've got to go play another game," coach Mike Sullivan said. "We've got to win a game. From our standpoint, nothing's really changed."
The Penguins fell behind in the first period on Flyers captain Claude Giroux's first goal of the series. They battled back with goals from Rust and Jake Guentzel less than five minutes apart in the second.
A short-handed goal by Valtteri Filppula in the final two minutes of the second proved to be a critical juncture in the game. Not only did it tie the score 2-2, it put an exclamation point on a poor night for the Penguins power play, which went 0 for 5.
"I don't think we got dominated by any stretch," Sullivan said. "We had zone time. We had opportunities to put more pucks at the net. I don't think we did it."
Jonathan Bombulie is a Tribune-Review staff writer. Reach him at jbombulie@tribweb.com or via Twitter @BombulieTrib.
Chaz Palla
|
Tribune-Review
Chaz Palla
|
Tribune-Review
Chaz Palla
|
Tribune-Review
Chaz Palla
|
Tribune-Review
Chaz Palla
|
Tribune-Review
Chaz Palla
|
Tribune-Review
Chaz Palla
|
Tribune-Review
Nate Smallwood
|
Tribune-Review
Nate Smallwood
|
Tribune-Review
Nate Smallwood
|
Tribune-Review
Nate Smallwood
|
Tribune-Review
Nate Smallwood
|
Tribune-Review
Nate Smallwood
|
Tribune-Review
Nate Smallwood
|
Tribune-Review
Nate Smallwood
|
Tribune-Review
Nate Smallwood
|
Tribune-Review
Nate Smallwood
|
Tribune-Review
Nate Smallwood
|
Tribune-Review
Nate Smallwood
|
Tribune-Review
Nate Smallwood
|
Tribune-Review
Nate Smallwood
|
Tribune-Review
Nate Smallwood
|
Tribune-Review
Chaz Palla
|
Tribune-Review
Nate Smallwood
|
Tribune-Review
Nate Smallwood
|
Tribune-Review
Nate Smallwood
|
Tribune-Review
Nate Smallwood
|
Tribune-Review
Nate Smallwood
|
Tribune-Review
Nate Smallwood
|
Tribune-Review
Nate Smallwood
|
Tribune-Review
Nate Smallwood
|
Tribune-Review
Chaz Palla
|
Tribune-Review
---