Transgender woman who last year competed as a man wins NCAA track championship
Franklin Pierce University
---
A transgender woman who competed as a man as recently as last year won an NCAA women's track national championship on Saturday.
Franklin Pierce University senior Cece Telfer beat the eight-woman field in the Division II women's 400-meter hurdles by more than a second, with a personal collegiate-best time of 57.53.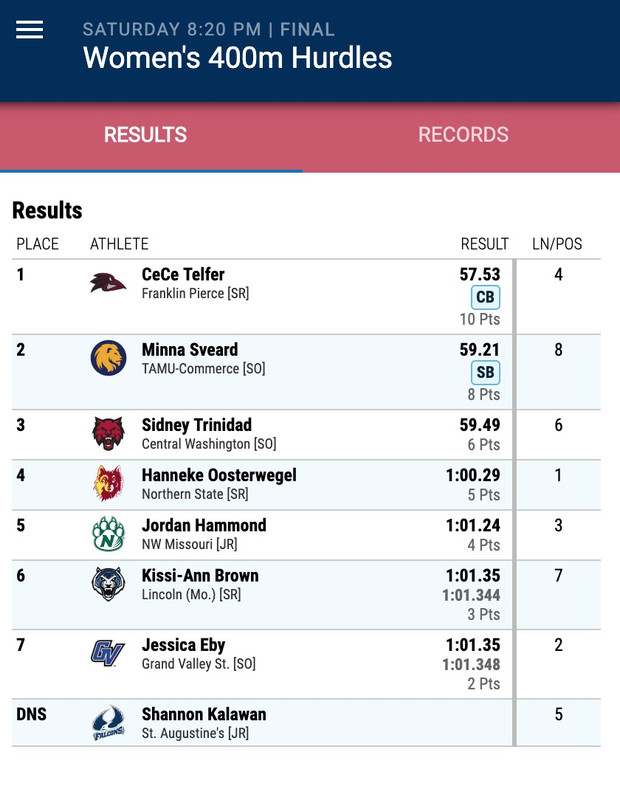 Telfer also earned All-American First Team honors with a fifth-place finish in the 100-meter hurdles earlier in the day at Javelina Stadium at Texas A&M-Kingsville.
The New Hampshire school has claimed NCAA championships six previous times, but never in an individual sport. The school's previous titles have been in soccer, with the men's team winning the 2007 title and the women's programs taking it in 1994, 1995, 1996, 1997 and 1999.
In just its 7th year of existence, the @FPURavensXCTF has its first national champion. Senior CeCe Telfer took control of the 400-meter hurdles on Sat. PM and went on to post victory w/ a personal best time of 57.53. Read more here; https://t.co/vCukMSb7vS pic.twitter.com/gE3v7HQ3Ml

— Franklin Pierce (@FPUniversity) May 26, 2019
According to a release by the school, Telfer "took the lead heading down the back stretch and held it the rest of the way, pulling away from the field in the final turn and down the home stretch."
"It was tough conditions out here with the wind and the heat over the last three days but, as she has over the last six months, CeCe proved herself to be tough enough to handle it," head coach Zach Emerson said of her performance. "Today was a microcosm of her entire season; she was not going to let anything slow her down. I've never met anybody as strong as her mentally in my entire life."
As recently as January 2018, Telfer had been competing as an athlete for Franklin Pierce men's team as Craig. Telfer finished eighth in a field of nine in the Men's 400 meters at the Middlebury Winter Classic in Vermont.
The NCAA allows male athletes to compete as women if they suppress their testosterone levels for a full calendar year. Before that, they compete on mixed teams — with men and women — in the men's division but not the women's.
According the NCAA's Transgender Handbook, "According to medical experts on this issue, the assumption that a transgender woman competing on a women's team would have a competitive advantage outside the range of performance and competitive advantage or disadvantage that already exists among female athletes is not supported by evidence."
Chris Pastrick is a Tribune-Review digital producer. You can contact Chris at 412-320-7898, [email protected] or via Twitter .