Le'Veon Bell's rap ripped Steelers. Then, an NFL star ripped him.
Le'Veon Bell via Twitter
---
I'm not one who is going to offer a lot of opinions about what is good or bad when it comes to rap. If you want break down the KISS concert at PPG Paints Arena, though, I'm here for you.
However, I will gladly regurgitate the opinions of others on the topic, especially if the reviews are ripping Le'Veon Bell's latest release.
The new Jets running back released a clip of his new single named "Free At Last." That's in reference to Bell's thinking that he's been held prisoner by the Steelers, and his apparent belief — based on his social media activity — that he is the Martin Luther King, Jr. of running backs.
As you may expect, it's saturated with self-aggrandizement and bragging about his exit from the Steelers. Some lyrics I've been able to decipher from what Twitter describes as "mumble rap" go like this:
• "They ain't signing me back, but they gotta pay for it, too."
• "I gotta stick it and move."
• "They got control over you … They gonna put you through some bull (radio edit) if they able. They gonna work you and work you and underpay you. I told 'em (radio edit) it, I'm outie just like a navel."
I'm totally guessing on that last line. But I think I got it right. I really do. "I'm outtie just like a navel."
That's what it sounded like. And, trust me, I will be using that analogy again on this page before Bell's first season in New York is done.
(After slogging through that song for 20 minutes, I just found this Sporting News story with all of Bell's lyrics. Turns out I was right. Not only about the "outie just like a navel" line, but most of the rest of it, too. Wow. I'm better at this than I thought! So, "outtie just like a navel" it is.)
At any rate, Bell — perhaps naively — asked for feedback from Twitter about the effort. The critiques he received were none too kind from his followers.
Also unkind: Chargers star receiver Keenan Allen. Unless these two were staging an April Fools' Day joke, he panned the video in a response for the whole world to see, using the "trash can" emoji instead of Bell's preferred "fire" emoji.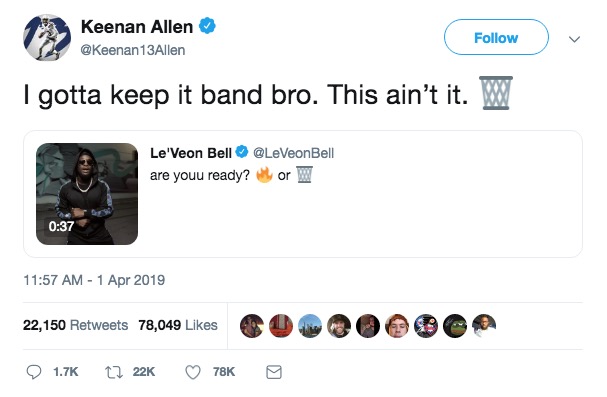 When Bell seemed to take offense, asking Allen why he didn't respond to him out of the public eye, Allen didn't back down.
I was not trolling on my momma bro. I don't troll. Like I said I speak facts. You shouldn't have asked if you ain't want the truth. All love over here bro https://t.co/FK1pa651Sd

— Keenan Allen (@Keenan13Allen) April 1, 2019
He even went so far as to say that Bell's true fans should've been the ones to tell him that his song wasn't any good.
It should've been your real friends that said it tho🤷🏽‍♂️🚫🧢 @LeVeonBell

— Keenan Allen (@Keenan13Allen) April 1, 2019
Ouch!
On that note, I'm outie just like a navel!
Tim Benz is a Tribune-Review staff writer. You can contact Tim at [email protected] or via Twitter. All tweets could be reposted. All emails are subject to publication unless specified otherwise.