Some of the grandest arrivals to training camp by Steelers
Chaz Palla | Tribune Review
---
One of the first players to arrive at Pittsburgh Steelers training camp earlier this decade privately confided with gleeful excitement about a teammate's grand entrance.
"Wait til you see it," the player said eagerly, "it'll be the best one yet."
A couple of years later, another player, when told of a different teammate's opulent arrival to Saint Vincent, rolled his eyes and uttered a curse word in disgust.
They range from the sublime to the ridiculous. Some love 'em, others could do without them.
But while the vast majority of the 91 Steelers players who show up on reporting day for the 54th training camp at Saint Vincent will do so in vehicles similiar to those of fans and media, others will opt for a more attention-grabbing arrivals.
Here are some of the more memorably over-the-top vehicles that Steelers players reported to camp in over the past 15 years.
---
James Harrison's Smart Car, 2009
With the Steelers coming off their sixth Super Bowl win, the larger-than-life defensive star of that victory showed up in the smallest enclosed, street-legal motor vehicle on the market.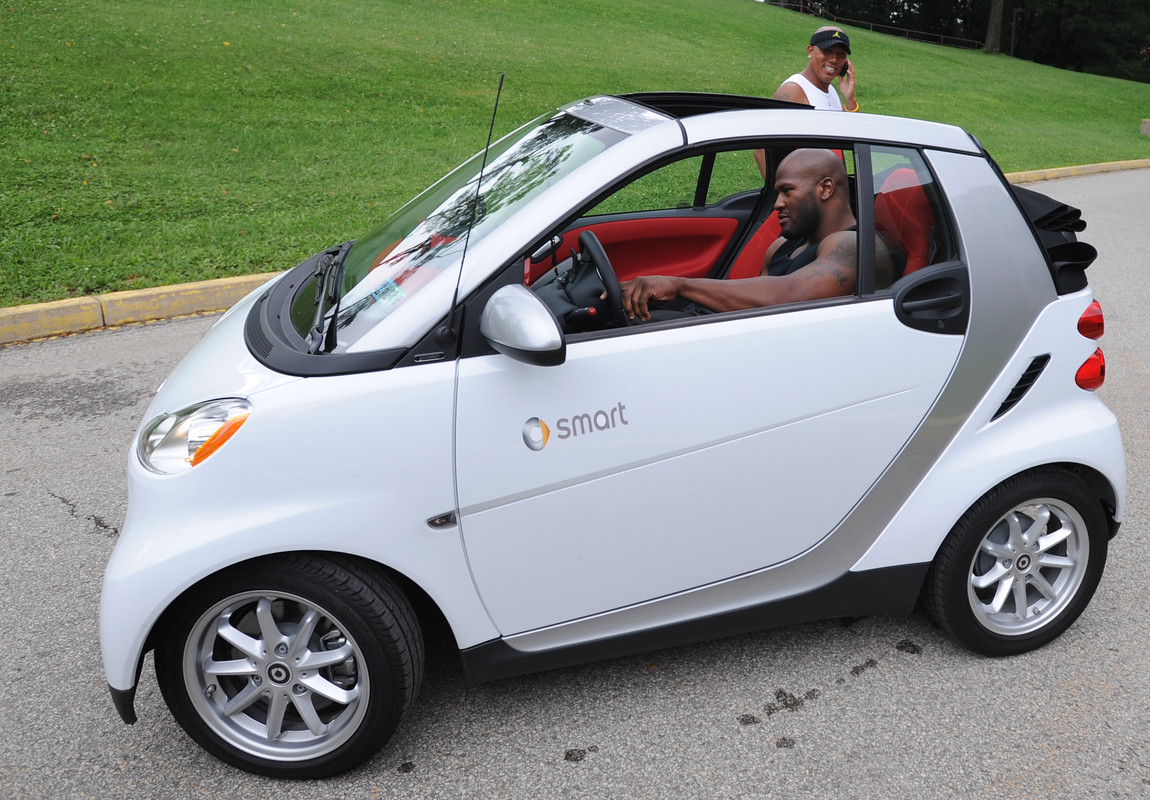 Chaz Palla | Tribune-Review
---
'Stone Cold' Vince Williams, 2018
The only entry on this list that didn't involve a vehicle (though the theme music blaring from Williams' black Ford pickup was a nice detail), Williams came dressed up as former WWE star "Stone Cold" Steve Austin, complete with jean shorts, studded leather vest — and championship belt, of course.
Vince Williams just arrived dressed like Stone Cold Steve Austin. His car is playing the theme song. #Steelers @937theFan pic.twitter.com/PWMtN7CDIL

— Josh Rowntree (@JRown32) July 25, 2018
---
A fleet of classic cars, 2006
It's not unusual, of course, for a group of young highly-paid men to collectively drive nice cars. And while modern sports cars and SUVs typically dot the Steelers' practice facility, the vehicles that are true eye-catchers are classic roadsters from the past.
For the training camp of 13 years ago, the Steelers were coming off their fifth Super Bowl. A trend started by veterans Tyrone Carter and Deshea Townsend led to a handful of souped-up hotrods pulling into Saint Vincent that late July day. Among the cars players arrived in were a 1965 Chevy Impala SS, a 1975 Chevy Caprice convertible and a 1971 Cutlass convertible.
Four years later, interestingly, several Steelers players would show up in a fleet of Minis.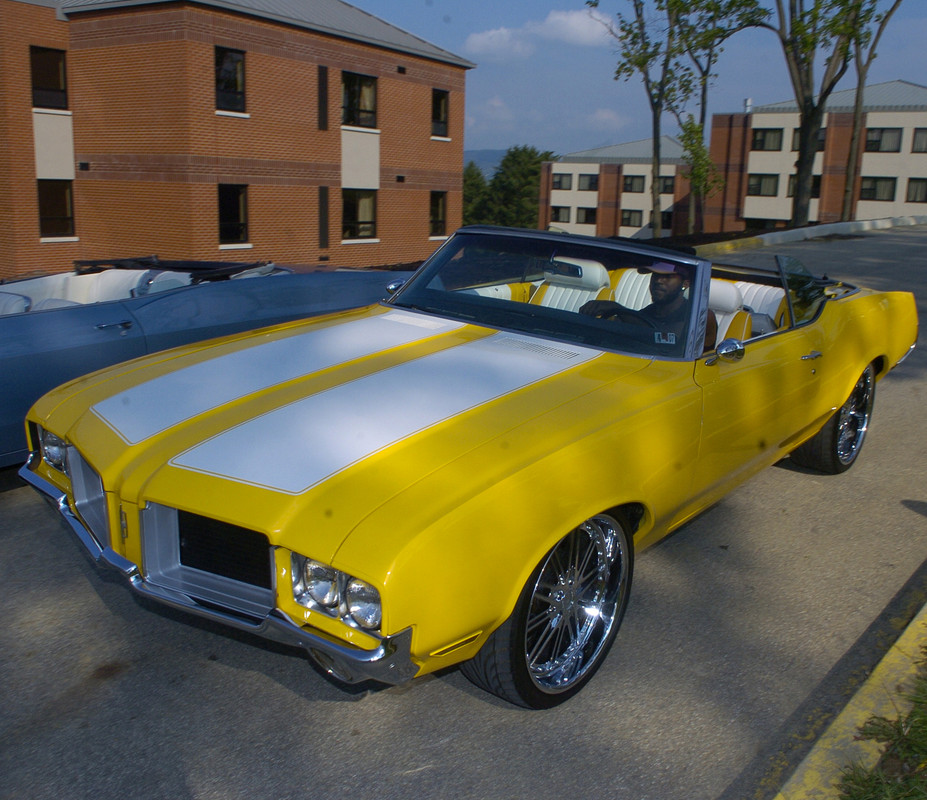 Deshea Townsend arrives to camp in a Cutlass Supreme convertible in 2006 (Chaz Palla | Tribune-Review)
---
Brett Keisel's tractor and dump truck, 2012-13
When the Steelers longtime defensive end showed up in July 2012 in a shiny orange Kubota backhoe, it was an entrance to remember.
But Keisel one-upped himself in what would end up being the last of his 12 NFL training camps the next year: a construction-site-worthy, industrial-size shiny new yellow dump truck, complete with tires reminiscent of monster trucks.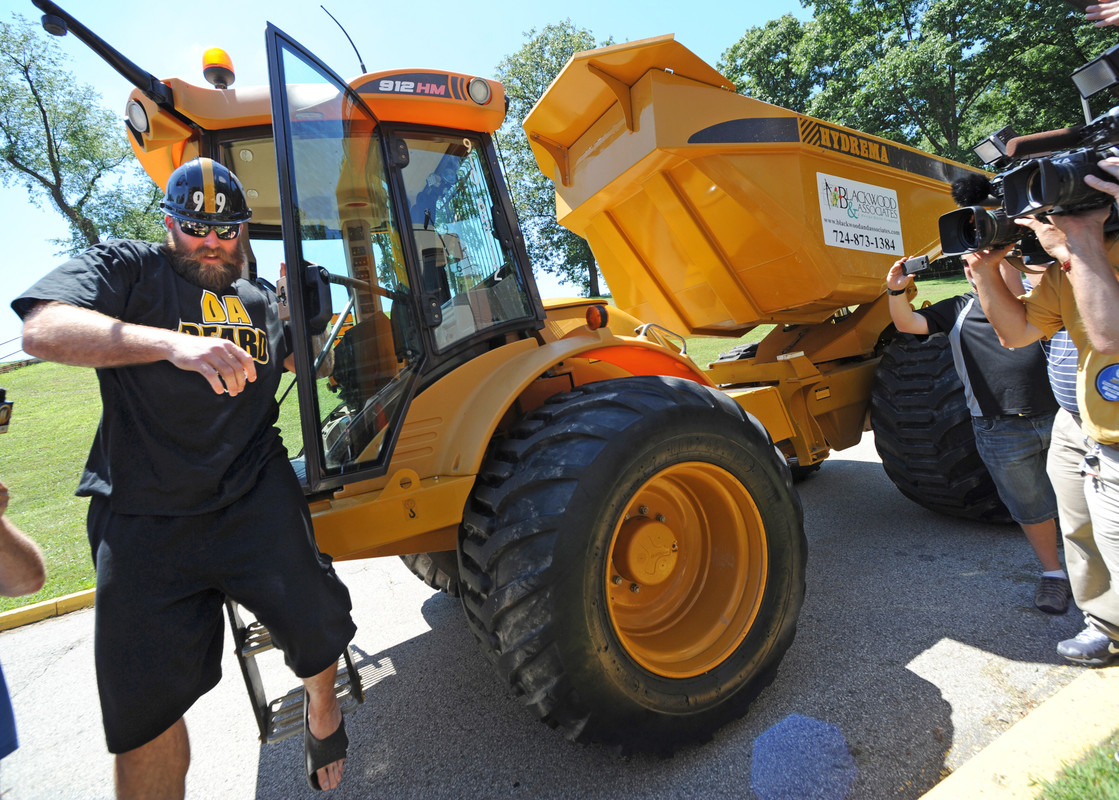 Chaz Palla | Tribune-Review
---
Antonio Brown's Rolls Royces, 2015-17
Brown showed up to training camp three consecutive late Julys in a vehicle of the brand perhaps most synonymous with luxury: Rolls Royce.
In 2015, it was one that was custom-painted to look something like a Steelers helmet.
I just got my first glimpse of #Steelers WR Antonio Brown's Rolls-Royce… pic.twitter.com/xi8e6r7FEt

— ig: josinaanderson (@JosinaAnderson) July 26, 2015
The next year, another modern Rolls had its own paint job, this time with a stars-and-galaxy theme that pulled up during a steady rain.
Antonio Brown pulled up to training camp in a Steelers-themed Rolls-Royce. (via @steelers) https://t.co/8CBAnG5vzJ

— NFL on ESPN (@ESPNNFL) July 28, 2016
In 2017, Brown was in the back seat as a passenger, while a "chauffeur" (actually, the owner of the classic car) drove a 1930s-era Rolls Royce.
Antonio Brown arrives at training camp in a 1931 chauffeur-driven Rolls Royce #WPXI pic.twitter.com/0M1560qHlK

— Alby Oxenreiter (@albyox) July 27, 2017
---
James Harrison's fire truck, 2017
The final entrance Harrison made to Saint Vincent was, no doubt, his loudest — and maybe the loudest of all-time for any Steelers player.
The siren was churning and the rotating lights flashing as the Saint Vincent fire truck pulled up the hill and around the bend past Bonaventure Hall en route to the steps to enter Rooney Hall.
James Harrison came to training camp in a fire truck. 🚒 (via @missi_matthews) pic.twitter.com/CpvobL2Ugt

— 360°FantasyFootball (@360FFB) July 27, 2017
The fire truck was speeding, but quickly slowed down to a stop before Harrison casually opened to the door and exited while wearing a sheepish smile and "SVFD" t-shirt.
"Gotta put the fire out," he said.
---
Antonio Brown's helicopter, 2018
The defending champion, though, of grandest arrival by a Steelers player might also be the G.O.A.T in that category: Brown touching down in a helicopter that landed on the intramural fields a few hundred yards north of Rooney Hall.
Yeah… @AB84 showed up in a helicopter. 🤯 pic.twitter.com/zTUBdLChI6

— Pittsburgh Steelers (@steelers) July 25, 2018
No one knew it at the time, but it would be the final occasion Brown would report to a Steelers camp.
Brown went out on top — but can anyone match him this year?
Hey, Steelers Nation, get the latest news about the Pittsburgh Steelers here.
Chris Adamski is a Tribune-Review staff writer. You can contact Chris by email at [email protected] or via Twitter .