Pirates rookie Bryan Reynolds among under-25 players making impact
Christopher Horner | Tribune-Review
Christopher Horner | Tribune-Review
Christopher Horner | Tribune-Review
---
Bryan Reynolds never was hugged by a pop superstar.
He was not invited to be guest of honor at an NBA playoff game.
And he has yet to receive repeated standing ovations in his home ballpark, although the 24-year-old probably deserves one when the Pittsburgh Pirates return to PNC Park on Friday night to play the Oakland A's.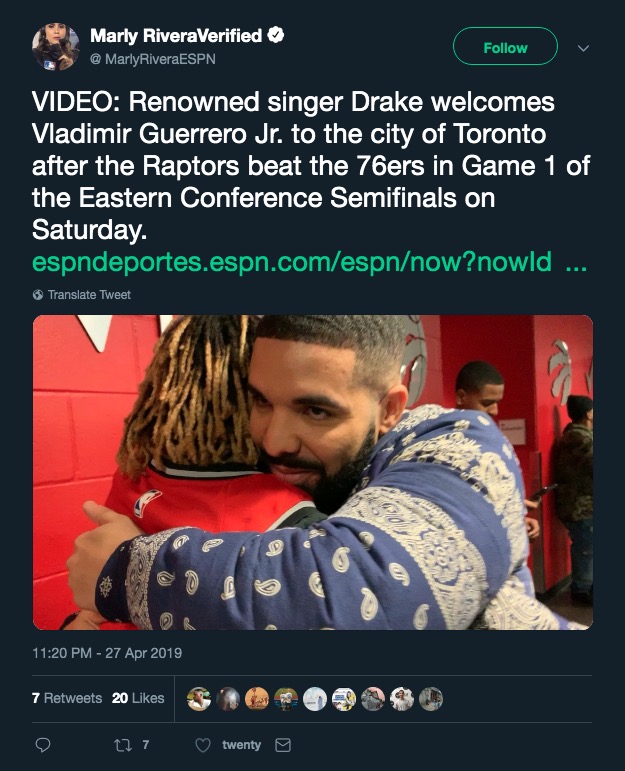 All those things have happened to the Toronto Blue Jays' Vladimir Guerrero Jr. in the past week after he was called up to the big leagues at the age of 20.
Crowded dugout for the Vladdy Jr. media availability in Anaheim! https://t.co/k7aQYwZzlZ pic.twitter.com/WZ5z7fv8a9

— Marly Rivera (@MarlyRiveraESPN) April 30, 2019
Reynolds? When he was 20, he was hitting .346 in the Cape Cod League, still with another season to play at Vanderbilt.
Yet Reynolds, Guerrero, the San Diego Padres' Fernando Tatis Jr. and many other young players are connected by virtue of being important players for their teams early this season, all before the age of 25.
Guerrero and Tatis are sons and namesakes of former major league players. In Guerrero's case, a Hall of Fame dad who hit 449 home runs and batted .318 in 16 seasons.
Perhaps that added to their celebrity, but they actually earned most of it. Guerrero has been in the minor leagues since 2016, and he slashed .343/,416/.593 in two Triple-A seasons.
"The big leagues don't scare him. He has been around it since he was a baby," Blue Jays first baseman Justin Smoak told MLB.com. "He deserves every bit of the attention.
"To do what he has done in the minor leagues so quick, he deserves it, and honestly, he has handled it really well."
Guerrero was only 3 for 18 in his first five games, but Smoak has high hopes for what's to come.
"I can't wait to see when he gets hot, because it's going to be pretty impressive," he said.
Tatis, 20, was hitting .300 with six homers and 13 RBIs and playing a solid shortstop for the Padres after becoming the youngest in 20 years to crack an Opening Day big-league lineup. He went on the injured list Tuesday with a hamstring strain, and Padres manager Andy Green, taking no chances with his prized youngster, said it could be "a number of weeks" before Tatis returns.
"I've never seen a player that young with the talent he has," Manny Machado, the $300 million third baseman who normally stands next to Tatis in the Padres infield, told USA Today. "Nobody. He's got the power. The speed. The glove. The arm. The baseball smarts."
And Tatis is not the only Padres prospect making an impact. Pitcher Chris Paddack, 23, is 2-1 in six starts with a 1.91 ERA and 0.697 WHIP.
The Cincinnati Reds (13-17 and last in the National League Central) are expected to call up 23-year-old center fielder Nick Senzel on Friday and insert him into the lineup immediately, according to MLB.com. Senzel was the second overall pick in the 2016 draft.
Reynolds arrived in Pittsburgh with much less fanfare, chosen 57 slots after Senzel. He and relief pitcher Kyle Crick were acquired from the San Francisco Giants last year in the Andrew McCutchen trade.
After spending last season in Double-A Altoona, Reynolds was called up to the Pirates on April 20 after only 49 Triple-A at-bats. He made the most of his short stay in Indianapolis, hitting .367 with five home runs and 11 RBIs.
Traditionally, Pirates general manager Neal Huntington prefers much more seasoning for his prospects, but this was an emergency. The Pirates already were missing outfielders Gregory Polanco, Lonnie Chisenhall and Corey Dickerson. Then a collision April 19 between center fielder Starling Marte and shortstop Erik Gonzalez sent both players to the injured list. Reynolds and 22-year-old shortstop Cole Tucker were summoned the next day.
"It was definitely earlier than we would have drawn it up," Huntington said the day after Reynolds and Tucker joined the team. "We've talked about the readiness curve, and we can argue both guys probably are just barely on the front edge of it."
But Reynolds has hit safely in all nine of his games, the second-longest streak by a Pirates player at the outset of his career since 1900. Polanco is the record holder at 11. Reynolds' slash line for those nine games is .414/.433/.724.
"There's a lot to like," manager Clint Hurdle said. "He's come in here with a very slow heartbeat."
Tucker has become the Pirates' everyday shortstop and will be at least until Kevin Newman comes off the injured list. After only 57 Triple-A at-bats, Tucker is hitting .231 with the Pirates, and his only homer and two RBIs came in his first game, the dramatic game-winner April 20 at PNC Park. But he has flashed a flawless glove, with no errors in 11 games (51 chances).
Before Reynolds and Tucker arrived, the Pirates also called up 23-year-old outfielder Jason Martin after only 59 games and a .211 batting average in Triple-A last year. He hit .229 for the Pirates and was sent down Tuesday when Marte came off the injured list.
Reynolds and Tucker remain and will continue to play key roles while the Pirates (14-14) try to keep pace in the NL Central and wild-card races.
"They have the traits," Huntington said. "Time will still tell if these were good decisions or not. Each level has its lessons to be learned. Now, they're going to have to learn some lessons at the major league level. Sometimes, it's harder to do that than it is at Triple-A.
"Their maturity, their intelligence, their presence, their feel, their confidence. We felt they were the right guys."
Jerry DiPaola is a Tribune-Review staff writer. You can contact Jerry by email at [email protected] or via Twitter .