U mad bro? Bruce Arians slams Antonio Brown, who rips Emmanuel Sanders
Ooh! It's a special "U Mad, Bro?" Normally, this weekly post is all about our beloved readers venting at me.
But, here's a new one. This week's entry is all about Steelers getting mad at each other.
As Mike Tomlin might say, "It's Steelers vs. Steelers today."
Well, a current (for now) Steeler vs. an ex-Steeler. Or two.
Wide receiver Antonio Brown got mad after former offensive coordinator Bruce Arians made some disparaging comments about him to ESPN's Adam Schefter.
"There's too much miscommunication, too much diva," Arians said. "(Brown) plays as hard as anybody on Sunday, and he practices hard. He's just gotta make better decisions off the field, be on time, do some of those little things."
Here's how A.B. responded.
He didn't draft me he drafted @ESanders_10 same guy who missed rehab to go on networks to talk about me on situation he have zero clue! Arians now wears kangoo hats n glasses ? but ima diva! Done seen it all then they say we friends stop lien https://t.co/jALXyhQMAw

— Antonio Brown (@AB84) January 16, 2019
In case you don't get what Brown is talking about when it comes to Arians' attire, let me help.
<a href="http://static.nfl.com/static/content/public/static/img/FanPass/FanPassQandA/Honors_Arians.jpg" width="100%"
Before we go any further, can we please acknowledge the irony of Brown making fun of how other people dress.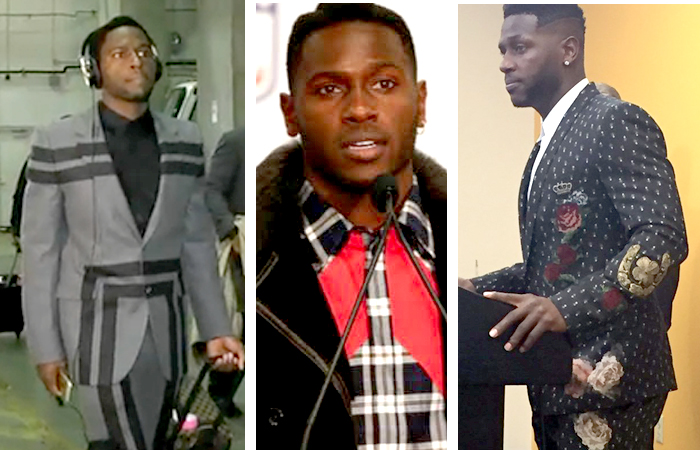 OK. Back to the action.
As you saw, Brown brought Denver Broncos player Emmanuel Sanders into the fray after his fellow wide receiver in Pittsburgh was critical of him on the NFL Network this week.
You didn't expect Sanders to stay quiet after that blast, did you?
@AB84 ???? you know damn well I didn't travel to LA to talk about you fam. You trippin yo. I went to be a analyst in which you acting foolish was the topic and I gave my analytical opinion. Get off the gas yo. You did it to yourself

— Emmanuel Sanders (@ESanders_10) January 16, 2019
Hiss!
Um, "analyst," Emmanuel? Slow your roll. You were on the set for a guest spot to dish on your ex-teammate. You aren't the next John Madden, yet.
But, please, don't stop stirring the pot. It's good for us.
I couldn't let this cat-fight go without piling on.
— Toni ⚾ ? ?? (@mrsblackngold) January 16, 2019
Some jock-sniffing honks didn't appreciate my sarcasm.
Hearing the Pittsburgh media talk about Steelers is like listening to the nerds talk about the cool kids in High School.

— N.G. (@NickGozz24) January 16, 2019
The cool kids in that guy's high school blew a 7-2-1 record and missed the playoffs? What did the uncool kids do? Tie Clevel….
Oh. Right.
https://twitter.com/21SBcraM/status/1085663442344820738
So, following one of those "dorks" on Twitter makes you … what then?
All I have to say to those guys is, this.
— DRS (@drs100) January 16, 2019